It's Wednesday, which means it's time for Midweek Madness! This week, we've rounded up five of the usual suspects. (We're welcoming OK! magazine into the fold!) The tabloids are a wee bit schizo this week: Angelina is either blissfully happy or completely miserable and Nicole and Joel are either head over heels in love or on the verge of a split. But one thing is definitely true: Britney is snapping up real estate in Crazytown! After the jump, with the invaluable help of Intern Maria, we present all the lies, rumors and truths Hollywood has to offer.
Us Weekly

Cover story: 'My Night With Britney' (pages 52-57). This is sooo good, y'all. The cover lines alone — 'Topless, drunk and lonely'!!!! Here's what happened: Matt Encinias, a 21 year old EMT/college student, was driving around L.A. with his friends when they stumbled on Britney's video shoot. Somebody came out and said they needed extras for a bar scene, and the next thing Matt knew, he was inside the shoot. Later Britney's assistant Shannon Funk asked Matt and his friends if they wanted to come hang out with her and Britney. Of course he said yes, and by 2 a.m. they arrived at the Standard Hotel, where the pool was kept open exclusively for the group. "Britney was the first to undress," Matt says. "I turned around and saw that she was topless and she had fake tattoos of flowers on her nipples from the shoot." Brit knocked back mojitos and started a game of Truth or Dare. Later, Matt and Britney started making out. "We were hugging and kissing and I did feel her boobs and they felt great," Matt says. "She was a great kisser." The night ended at about 4 a.m., and Matt went home, but left his number with Brit. She got up the next morning, checked out of the hotel at 11, and was home by noon — just in time to greet her kids, who were being dropped off. "I was told that all she wanted to do that night was kiss a boy. And that's what she did. Mission accomplished," says Matt. The world thanks you for telling your story, Matt!

'Hilary Duff Texts Joel Madden!' (Page 51.) After Nicole and Joel were on 20/20, Hilary congratulated Joel on the pregnancy. Which is actually very classy of her.

'Celebrity Feuds Of The Week' (Pages 62-63.) Spencer Pratt vs. Lauren Conrad, Mandy Moore vs. Zach Braff, book editor Nan Talese vs. Oprah, Donald Trump vs. Dina Lohan.

'How Love Saved Nicole' (pages 64-67). Joel Madden has changed Nicole Richie for the better! "He tamed her," says a source. She likes that he's "a good mama's boy in a bad-boy's body". You know what? Good for them!

'The Boys Of Summer' (pages 70-75). US features the new hotties to lust over. Zac Efron is the centerfold — he's in low-slung swim trunks, shirtless and dripping with water. Also, he's 19. Other new "hot" boys are Aaron Eckhart, 39; actor Patrick Wilson, 34; and funnymen Kal Penn and Andy Samberg.
Star

Cover story: 'Pregnant Nicole's Secret Hospital Crisis' (pages 48-51). Star claims that Nicole started bleeding, her doctor recommended that she go the hospital, but she chose not too. A source says, "She's suffering from both a hormonal and nutritional deficiency. Her body isn't producing enough hormones needed for this pregnancy. And worse, she's emaciated." The story goes on to say that Nicole's "afraid if she loses the baby, Joel will dump her." Quite a contrast to the sweet story in US!

'No Brad, No Baby, No Life — Tragic Jen: Dumped Again' (pages 52-53). Jen's latest guy, Paul Sculfor, has broken up with her, because he's sober and doesn't want to relapse. The story never says she's a pothead (which we've heard before) but the subtext is there. "While Sculfor never intimated that Jen does drugs, he believed they are common within her circle of acquaintances." Well, duh, she lives in L.A.!

'Nick & Vanessa: The Battle Behind The Bliss!' (Pages 58-59.) Since this couple is so boring, it's interesting that they might be squabbling. Apparently, now that they live together, there's some minor drama. "Nick would set up a room and then come home to find Vanessa had completely rearranged things without even consulting him," says a source. Hmm, still boring. Unless, course, Nick is the source!
G/O Media may get a commission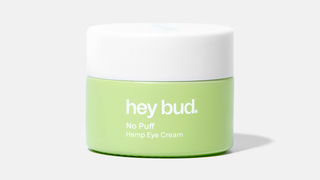 15% off
Hey Bud - No Puff Hemp Eye Cream
OK!

First of all, you gotta love the callout on the cover that says "Save 50¢ - compare to US Weekly!"

Cover story: 'Angie And Brad Fight The Split Rumors' (pages 44-47). A friend of the couple does spin control: They're moving to France, Angie gets along with Brad's mom, the rumors of them fighting over the kids are false, they're madly in love.

'Could Lindsay Be Pregnant?' (Pages 54-55.) She's late with her period all the time, but no one ever knows if it's because of her odd eating habits and drug problems. So, in a word, no.

'The Truth About Celebrity Assistants' (pages 34-37). Kimora Lee Simmons' former assistant spills! Who are the best bosses in Hollywood? Jay-Z, George Clooney, Jerry Seinfeld, Whitney Houston. Mariah Carey is "um, a little difficult."

'No Longer Diddy's Girl '(pages 56-59). Kim Porter dishes about Diddy. She refers to him as Mr. Combs and refers to herself in the third person. (Hah!) She says that his relationship with Jennifer Lopez wasn't what it seemed. "He was still in love with me, I never looked at the relationship as serious." Uh, okay, sure.

On page 93 there's a small interview with Evan Handler, who played Charlotte's Jewish husband Harry on Sex And The City. He says he hasn't seen a script for the SATC movie and no one has contacted him. This makes us sad.
In Touch

'Finally Angelina Admits There Are Problems' (pages 36-39). Basically there's a scan of a weathered French tabloid that Angelina allegedly gave an interview to. In Touch translated the story and rehashes the details with the help of a "relationship expert." The diagnosis? Angelina's not bisexual anymore and she's not into S&M anymore either. "He has to be a good father for my kids," Angelina says. The expert has problems with the use of "my" instead of "our" — alleging that it's not a true partnership with Brad. There's a stupid sidebar in which In Touch asks women on the street what they think of Angelina. Five out of six have negative things to say. One smart girl says "She's beautiful... It's a jealousy thing."

'Lindsay's Bodyguard Tells All! ' (Pages 42-43.) Lindsay's former guard, Tony Alnida, says that her father, Michael, was a "real life Jekyll & Hyde." He tells a story about Lindsay being in the car with her dad and telling Michael that she wanted to stay after a concert and hang out with friends and celebs. Michael slammed on the brakes on the Long Island Expressway, dragged Lindsay out of the car, pushed her up against the hood, screamed at her and called her a 'slut'. Michael Lohan's response to this story: "If I did do it, if that's the worse anyone can say about me, it isn't too bad." Keep this guy away from her. Seriously.

'Is Britney The Next Anna Nicole?' (Pages 56-57). The wild sense of humor, the relying on dogs for affection, going commando, feuding with Mom — Brit's tragically like her fellow Southern belle.
Life & Style

Cover story: 'Brad's Birthday Surprise For Maddox' (pages 26-35) .Four spreads of fun photos! For Mad's birthday, Brad and the kids played army-themed "capture the flag" and other games at their very green Santa Barbara estate. There was little green tent and they made their own slip 'n slide! "All the Jolie-Pitts had a blast," crows L&S. Funny how last week, sister publication In Touch had Brad and Angie and cover line" What Went Wrong." Hmmm.

OMG! 'Even Stars Have Flaws' (pages 48-51). The celebrities chosen for this story are no-brainers like Courtney Love and Pamela Anderson, people we *never* thought were flawless. But thanks, L&S!

'The Hills' Whitney and Audrina Show Off This Minute's Coolest Trends' (pages 52-55). A quote from our own Intern Maria: "The most heinous clothes I've ever seen. Slut tops."

'How Old Do They Dress?' (Pages 56-57). L&S accuses Halle Berry of wearing a dress that makes her look like she is 15 and Mariah Carey of wearing outfits suitable for a 17-year-old. We can't really argue with that.