Eighteen years years ago, in 1989, The Disney Channel revived its popular show The Mickey Mouse Club. By seasons 6 and 7, the show had a slew of talented kids in its cast, including Ryan Gosling, Keri Russell, JC Chasez, Christina Aguilera, Justin Timberlake and Britney Spears. Gosling is now an Academy Award nominee. Keri Russell has won a Golden Globe. JC Chasez was part of multiplatinum group 'NSync. Christina Aguilera has five Grammy Awards and nominations. Since leaving 'NSync, Justin Timberlake has sold over 15 million albums worldwide and won an Emmy for "Dick In A Box." And then there's Britney Spears.
In today's L.A. Times, longtime music writer and critic Ann Powers compares former paramours Britney and Justin. She asks: "Why has one teen phenomenon made such a spectacular transition to adulthood, while the other languishes in the muck of her own misdeeds?" Powers attempts to answer that question.
At 22, Spears retreated from music-making into a marriage that produced two children and landfills of bad publicity. As Timberlake honed his musical talents, mentored by the ingenious Timbaland, Spears let herself go — as a performer as well as in those ways documented by beauty-obsessed gossip rags. Soon the complications of her private life completely overshadowed her always tenuous artistic reputation.

There also was a time when Timberlake earned little respect as an artist. He was in a boy band, remember? 'N Sync epitomized the packaged toy-pop of the new millennium, roundly derided as pabulum that would do in "serious" rock and 'n' roll and hip-hop. In this milieu, Timberlake was just another bright-eyed pre-teen's pet — talented but apparently vapid. Britney seemed more sophisticated, playing off her schoolgirl-vixen image in her videos and live shows.
Somehow, Justin, though he allegedly wrote "Cry Me A River" about Britney, managed to keep the music the focus, instead of his private life. On the other hand, Britney took a break from music, forcing her private life to become the focus, argues Powers.
Like many creative women, she took time off to start a family and lost career momentum, reduced by many to the role of "bad mom." Like her tragic spiritual sister, Anna Nicole Smith, she soon found that fame for its own sake is a toxic pursuit.
G/O Media may get a commission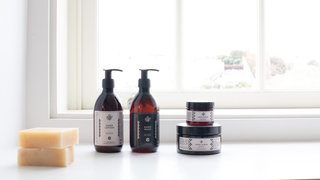 Exfoliate and Hydrate
The Handmade Soap Company
Powers also notes that Justin's ability to laugh at himself has helped him to save his soul. But what Powers doesn't offer is a solution for Ms. Spears. How can Britney save herself? A dick in a box?
Justin And Britney: A Tale Of Two Lives And Careers [L.A. Times]
Earlier: Britney Spears' 'VMA' Bomb: MTV, America And Britney Herself Are To Blame
It's More To Love Britney, Bitch!
Britney's Performance: Are Frozen Margaritas And Poorly Made Boots To Blame?
Still-Life With Britney Spears: It's The VMAs, Bitch
Britney's VMA Performance: How Many Different Ways To Say "It Sucked"?

Britney Spears Hits Liquor Store; Buys Ham Sandwich, Snapple; Eats, Spills Snapple On Self