I cannot tell a lie: I am a huge Britney Spears fan. I may not be into some of the deeper cuts, but I watched all of Chaotic, rooted for her recovery and I didn't completely disagree when Chris Crocker told everyone to leave her alone. It's pretty sad, then, that Britney's dad had to buy a video of her boyfriend cheating on her and then showed it to her.
According to TMZ, Britney Spears' boyfriend (now her ex) (I hope he is now her ex) was caught on video dancing and canoodling with a woman that was not Bit Bit. Britney's dad, who has been her conservator since that horrible car hitting incident, allegedly found the video, paid for it and then showed it to Britney to let her know what a lying, cheating scumbag her boyfriend David Lucado is. That couldn't have been easy for Britney to watch. (Although I don't get why he had to show it to her. He could have just told her? I would have believed it.) (Ugh, now I am just imagining Britney watching the video and crying and thinking about pizza because pizza makes everything temporarily better, even being cheated on.)
Last night, Britney showed that she's taking this whole thing pretty hard when she posted an Instagram video telling fans that she'd had a shitty, shitty day and that the only way to make a shitty day better is to find someone with pictures of hearts on their shoes and befriend them. (You may also settle for donut and cupcake shoes, which are sold at Converse and which I was barred from buying because apparently "you are too old for this shit, Mark") Sounds like a plan, Britney. Sounds like a plan.
God, doesn't that "made my day" just kill you?
TMZ reports that the video of Britney's cheating ex will never surface due to the fact that Jamie Spears has buried it in the depths of Mordor where no one will ever find it. Not enterprising hobbits, not Gollum, and certainly not the paparazzi. Jamie Spears' rep told TMZ that any motherfucker up in here who tries to publish the video will be hit with a copyright infringement so quickly that their fucking head will spin all the way around because NO ONE but NO ONE is going to ruin his little girl's reputation. You fucking hear that? You leave fucking Britney alone. (Not his exact words, but likely his meaning.)
G/O Media may get a commission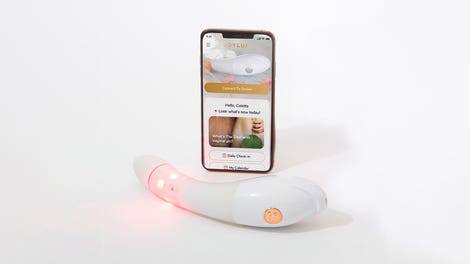 $50 Off
Joylux vFit Gold Device
You can get through this, Britney! You can do it all!
Image via Getty