In a bit of questionable trend-mongering, The Daily Beast's Natasha Fraser-Cavassoni identifies a new crop of British 'it' girls whose charm comes from their ability to snap gum and say rude things.
These girls include Kate Moss, Lily Allen and, perplexingly, Agyness Deyn, and their skills include being a mess and liking it. Fraser-Cavassoni interviews a number of characters of dubious expertise, including LA vintage shop owner Cameron Silver, who says, "There's a big fascination for girls who have success, can always deliver, but are surrounded by disaster." He adds that what sets the British 'it' girls (we sense a 'Brit-girls' portmanteau coming on here) apart from Britney Spears and Lindsay Lohan is "the F-off attitude of Moss and Allen-few people can get away with that and, let's face it, they always get the guys."
Ex-Sex Pistols manager Malcolm McLaren (whom Fraser-Cavassoni generously calls "the godfather of punk") adds, "The French and Italians are encouraged to live at home as long as possible. [...] In England, kids are pushed to leave early and that creates a humor, edge, and early floozy mentality." And Christian Louboutin says the Brit-girls are "like English fashion: uncontrollable, unpredictable and completely non-bourgeois."
Fraser-Cavassoni offers Kate Moss as a case study, beginning with her appearance at the recent Metropolitan Museum Costume ball:
Chewing on a thick piece of gum, Moss ceremoniously pulled it out when deigning to talk. Punk-rock princess or what? Then there's her noted lack of patience with the paparazzi. No simpering smiles à la Olsen sisters. 'Give me a fucking moment!' Moss recently yelled at one photographer.
G/O Media may get a commission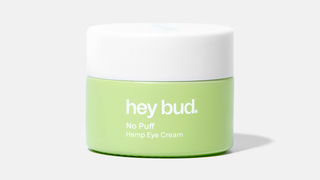 15% off
Hey Bud - No Puff Hemp Eye Cream
While gum and cursing at first seem preferable to sugar and spice, isn't branding Lily Allen or Kate Moss a bad girl — and then expecting each to act out a "floozy mentality" — just as reductive as calling, say, Reese Witherspoon a nice girl? Isn't this just another tiresome salvo in the media's unending Madonna-whore campaign? (By the way, Lily Allen says Madonna's out of date. She's so naughty!) Camilla Morton, author of the style manual A Year in High Heels and Fraser-Cavassoni's umpteenth weird and possibly self-promoting interviewee, says, "unlike those TV Gossip Girls, they could be stripped of labels and survive, because Kate and Lily have a strong sense of themselves. Neither is capable of compromising." Let's hope that's true, and that neither falls victim to the same turning-young-women-into-stereotypes machine that chewed up Britney.
Britain's Naughty 'It' Girls [The Daily Beast]