The Guardian's Sunday magazine, the Observer, devoted almost every article this past weekend to the state of feminism in Britain, and the picture they paint is pretty bleak. The lead essay, by 39-year-old Rachel Cooke, claims that the gains made by earlier feminists are quickly losing ground. "Are we going backwards? Are we not waving but drowning? Yes, in a word," Cooke writes.
It's not that Cooke doesn't offer good examples of this feminist regression — she does, from the country's deplorable rape conviction rate to the media's mauling of Amy Winehouse — it's that she, and the editors of the Observer, barely managed to speak to young British feminists about what was going on in the grass roots of the current movement.
Sure, she has one brief quote from 27-year-old Jess McCabe, the woman behind the excellent UK Feminist website The F Word, but of the eight articles about women in the Observer special, not a single one is written by an emerging feminist or speaks in depth to a woman under 35. There's an article about the women behind the 1970 National Women's Liberation Conference, and another article which is an interview with retired newscaster Anna Ford. But the only article that even attempts to speak to women in their 20s, barely bothers to speak to women specifically involved in the feminist movement.
That particular article, "What's it like to be young, female and living in Britain?" asks a range of young women, from models to Olympic athletes to a few activists, about their personal experiences. Silver medallist in modern pentathlon, Heather Fell, says: "In some ways I'm a traditionalist — I think the man should be there to look after the woman. For me, feminism means women thinking we can do everything without needing men and I don't agree with that." They speak to a 21-year-old engineer who says she's never encountered sexism, and a model who helped found the model's union in the UK who says, "I never liked the word 'feminist' — for me it always meant being against men, whereas I see myself fighting for general equality." One of only two self-proclaimed feminists the Observer talks to is burgeoning politician Rania Khan, who says "I describe myself as a feminist, but feminism doesn't make sense to me as a separate entity. I see it as part of the wider struggle for equality, alongside class and race. I want to see more women, especially from ethnic minorities, involved in politics. Women need to be educated and empowered to take those key positions; only then will we see change."
Khan's brief comments in that one article say far more about the state of modern feminism than the thousands of words spilled by older, and dare I say, more out of touch feminist lights. It's a movement that has become more global, and while it's certainly less cut and dry than the battles those 70s feminists were fighting, that doesn't mean the current issues are not important, or that feminism is dead. This is not to denigrate those incredibly important battles in the least, but I wonder if in some ways, it's time for print media to start handing over the mantle.
G/O Media may get a commission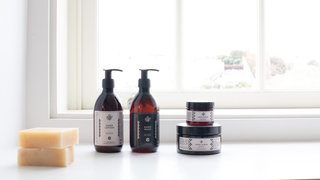 Exfoliate and Hydrate
The Handmade Soap Company
Two self-proclaimed feminists I see published in the MSM quite frequently are Germaine Greer and Camille Paglia. Both these women have contributed to the feminist lexicon, but these days they seem to be purely deliberate provocateurs, one of whom is obsessed with denigrating Hillary Clinton's appearance, and the other busy lashing out at Lady Di. The Observer's spread even includes one of these past-prime provocateurs, Fay Weldon, who has written in the Daily Mail recently about how teen girls should be temporarily sterilized and how the Spice Girls ruined feminism. Maybe the picture of modern feminism would not seem so bleak to the Observer if they looked beyond the old-fashioned, all-white faces of 20th century feminism to the new movements roiling right under their noses, yet curiously off their pages.
How Far Have We Come In 80 Years? [Guardian]
It's Been A Long Journey — And We're Not There Yet [Guardian]
The Interview: Anna Ford [Guardian]
What's It Like To Be Young, Female And Living In Britain? [Guardian]
Earlier: Camille Paglia Hates Hillary, Loves Mailer, Is Miffed At Madonna
Who's Afraid Of The Badly Dressed Princess?
Daily (Hate) Mail
British Novelist Says Spice Girls Made Generation Y Drunk, Slutty