Have you ever longed to experience a version of HBO's Rome that gobbled several pounds of hallucinogens and took off for the Glastonbury Festival draped in a fashion bed sheet from Asos? Behold Britannia, premiering January 26th on Amazon Prime Video.
It was just today that I was made aware of this masterpiece, premiering January 18 on Sky Atlantic in the UK before coming to our shores via streaming, surely destined to be remembered as the United Kingdom's greatest contribution to pop cultural representations of the Roman Empire since Bromans. Deadline says:
Created by Jez Butterworth (Jerusalem, Spectre), Tom Butterworth and James Richardson, Britannia is set in 43AD as the Roman Imperial Army, determined and terrified in equal measure, returns to crush the Celtic heart of Britannia, a mysterious land ruled by wild warrior women and powerful Druids who can channel the powerful forces of the underworld. Kelly Reilly (True Detective, Sherlock Holmes), David Morrissey (The Walking Dead, The Hollow Crown), Zoë Wanamaker (Harry Potter and the Philosopher's Stone, My Family), Nikolaj Lie Kaas (The Killing) and Eleanor Worthington-Cox (The Enfield Haunting) star.
A guide to the show in British Vogue makes it sound like the psychedelic vibes are not mere trailer fodder. "I remember the first few times I took mushrooms, I saw a lot of images that I recognised from cultures from a long time ago. It's like this connection to the past, a way of envisioning that struck me as fundamental to the series," writer Jez Butterworth told them. A reviewer for the Guardian argues:
It's not simply understandable that Britannia plays fast and loose with literal history. It is correct and even important that it does. This is a show about the power of myth-making. In place of historical precision, there is something much more potent and seductive – a berserk and atavistic idea of Britain, odd notions and practises developing in isolation.
Into this maelstrom come the forces of Emperor Tiberius, with their discipline, their road-tested, state-of-the-art invasion strategies and their assumptions of cultural superiority. They are entirely unprepared for Albion's array of stinking, babbling visionaries, terrifying mystics and warrior queens who threaten them by saying: "If you ever come here again, I will eat your eyes."
G/O Media may get a commission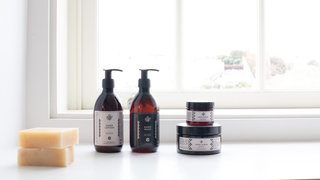 Exfoliate and Hydrate
The Handmade Soap Company
What an appealing and aspirational-sounding female character! I'll leave you with this trailer, which features Donovan's psychedelic "The Hurdy Gurdy Man"—apparently the show's title music—and could be confused for a documentary about the Summer of Love, except meaner and weirder, which I had no idea I desperately needed until this very minute.