Britain's Prince Edward has been accused of striking a dog with a walking stick after photographs surfaced showing the royal holding a stick high in the air and then very close to the dog's head.
The story is a bit sketchy: Prince Edward was out hunting pheasant with his pups, who, as good Labrador Retrievers will, began fighting over a dead pheasant that had hit the ground. The Prince apparently attempted to break up the fight with his walking stick: whether or not he actually hit the dogs, or just scared them off, is unknown. However, it's a bit unsettling that the best a Buckingham Palace spokesman can come up with is this: "It has not been determined that he did strike the dog. He broke up the fight with the dogs and pictures show him waving his stick around. We cannot confirm, however, whether he struck the dog." If the answer is really "No, I didn't hit the bloody dogs, you're being tricked by paparazzi photos," then why doesn't Prince Edward just say so and we'll all move on? I suppose only good news Buckingham Palace can give us is this: "Both dogs are fine – no harm was done to them."
Animal activists in Britain are lashing out against the Royal, with Barry Hugill, of League Against Cruel Sports calling Edward's behavior "a truly sickening example," and Andrew Tyler of Animal Aid noting, "We can't be certain that Edward's stick did make contact with the dog although he certainly appears to have acted impulsively without restraint." Both men also take swipes at the Prince for going hunting in the first place, and Tyler notes, "It is an offence to cause an animal unnecessary suffering. Hitting a dog is a pathetic, cowardly and vicious act — it would appear he has had a royal tantrum."
It is hard to take a real side here, as the photographs are inconclusive, though the lack of a definite denial from Buckingham Palace lends an incredibly shady side to this entire affair. One could argue that this article sets off a ton of smaller debates, however: the question of whether or not responsible hunting qualifies as animal cruelty, the idea that hurting some animals causes more outrage than hurting others (though in fairness, a picture of Queen Elizabeth wringing a pheasant's neck set off a storm a few years back, as well), and the notion of public judgment based on a series of paparazzi shots are all interesting pieces of this weird puzzle that I'm sure could use some breaking down in the comments.
Also, I think his punishment, should he be guilty, should be the requisite fines and jail time, along with a 72 hour non-stop screening of those Sarah McLachlan ASPCA commercials. Sarah! I have a rescue dog and I donate. Stop breaking my heart every 8 seconds when I'm trying to watch cartoons! I don't know what else I can do! Sometimes I turn the channel because I can't stand it, and I'm not sure that's your point. But at least your message is clear, Sarah: too bad Buckingham Palace can't say the same.
G/O Media may get a commission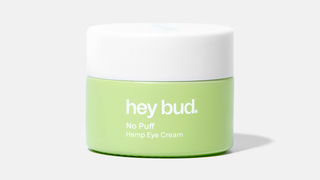 15% off
Hey Bud - No Puff Hemp Eye Cream
Earl of Wessex In Gun Dog "Cruelty" Row[Telegraph]
Britain's Prince Edward Accused Of Beating Dog[Yahoo]