Governor Sarah Palin's daughter Bristol once told Fox News that abstinence is "unrealistic", but now that she's a Teen Ambassador for The Candie's Foundation, she says abstinence is "the only way" to prevent pregnancy.


Bristol, appearing on GMA this morning, said she isn't "quite sure" how her personal experience conflicts with her new abstinence-only message. What she was sure about is that "abstinence is the only way you can effectively, 100% [...] prevent pregnancy." Is this a reversal of her earlier (and, frankly, more consistent with her own experience) position that abstinence is unrealistic? Not according to Bristol, who claimed she never said such a thing:


Bristol said her earlier words on abstinence were "taken out of context," and GMA's Chris Cuomo didn't press the issue, which is unsurprising in an interview padded with softball questions about Levi Johnston and Tina Fey's Sarah Palin impersonation. Today's Matt Lauer, who interviewed Bristol later in the morning, wasn't much better — in his sit-down with Bristol and, weirdly, her dad, he mentioned Bristol's earlier "unrealistic" statement but didn't actually ask her to explain her change of heart:


It was a little icky to watch Lauer ask Todd Palin, on the couch with his daughter and grandson, if he knew Bristol and Levi were having sex — at the same time, it was disappointing that Lauer let Todd totally sidestep the question. The weirdest part of the interview, however, was Todd and Bristol's different characterizations of Bristol's pregnancy. Bristol, holding Tripp, asked teens to "learn from my [slight pause] example." Todd went ahead and calls it a "mistake." Which goes to show that, as Lauer hinted, having a Teen Ambassador promote abstinence with her baby on her lap is kind of a strange choice. But The Candie's Foundation, whose "celebrity messages" include "Be Sexy: It Doesn't Mean You Have to Have Sex" and which counts among its spokespeople Jenny McCarthy of toilet ad and vaccine-hating fame, is no stranger to strange choices.
Update: On The Early Show, Levi Johnston disagreed with Bristol's new position, saying, "I don't just think telling young kids, you can't have sex, it's not going to work. It's not realistic."
G/O Media may get a commission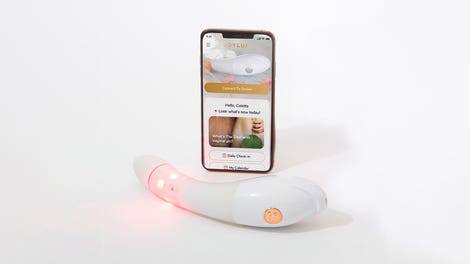 $50 Off
Joylux vFit Gold Device
Related: Bristol Palin Campaigns Against Teen Pregnancy [MSNBC]
The Candie's Foundation: History [Official Site]