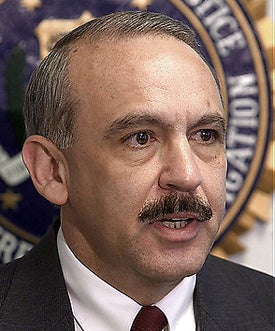 Carl Spicocchi's a lucky guy. He kidnapped, beat, threatened and tried to kill his now former mistress in Arlington last year (his wife was back home in Toledo at the time) and was sentenced this week in Arlington County Court. Although his victim was still too scared to appear at the sentencing, Circuit Court Judge and former Democratic Assemblyman Jim Almand told the court "It requires a substantial sentence and a substantial amount of time." He then sentenced him to 3 years on the gun charge, and 3 years on the kidnapping, beating and murder attempt. Oh, did we mention Carl was an FBI agent?
Carl spent 19 years as an agent, actually, moving up in the Bureau to head its Toledo office and was in D.C. on a temporary assignment when he met his mistress, a neighbor in Arlington. He told her he was divorced, but he apparently forgot to mention that to his wife or the courts.
Last August, he became convinced that his mistress was cheating on him (pot, kettle, etc). So, he did what anyone would do, I guess: he broke into her apartment, waited in her closet with a knife and a gun, tore her clothes off, tied her up, dragged her around the apartment by the hair, stuck his gun in her mouth repeatedly, menaced her with a knife, beat her, threatened to kill her, fired the gun into the floor and, 6 hours into her ordeal, tripped in his drunken stupor. She managed to run out of her apartment screaming loud enough for the neighbors to call the cops who found him in the hallway shortly thereafter.
Although he reportedly admitted to prosecutors that if she hadn't run away he would have actually killed her, told her that he had plans to flee the country after murdering her to escape prosecution and was facing 13 years in prison (including the mandatory 3 on the gun charge), Democratic Judge Jim Almond only sentenced him to 7 years on the abduction and suspended 4 of those. Perhaps he was swayed by the dozens of letters from other FBI agents pleading for leniency because trying to kill his girlfriend was an "aberration" in his life — although, that begs the question of for whom is this the norm. Perhaps he was swayed by the more than two dozen FBI agents who showed up in court to support Spicocchi — and maybe that was why his victim was too scared to show for the sentencing. It's really hard to say what was going through the mind of a Democratic judge in a Democratic county in a state known for being harsh on criminals when he decided to let a white former law enforcement officer serve less than one-third of the maximum sentence for kidnapping, beating and terrorizing his girlfriend. I'm sure, however, that the exact same thing would've been going through his mind if the offender had been a person of color, or not a member of the law enforcement community or had some minor unrelated charge (marijuana possession comes to mind) on his record. Totally sure.
Either way, for their unwavering support for former agent and girlfriend-torturer Carl Spicocchi, I'd like to call for a sexual boycott of FBI agents. Carl might be getting some from his new roomie in the big house, but the guys who think that he shouldn't spend too much time there shouldn't get any from us.
Ex-FBI Official Gets Six Years [Washington Post]
FBI Official Charged With Abduction, Assault [Washington Post]
Ex-FBI Supervisor Admits to Abducting Girlfriend [WTOP News]