Critics say Bravo's new reality series NYC Prep shows that in real life, Gossip Girl would be far less entertaining, and much more pathetic.
While Bravo successfully copied both The O.C. and Desperate Housewives to create the Real Housewives franchise, it's unclear if the same formula can work for their new Gossip Girl knock off. The show, which premieres tonight at 10 p.m. Eastern and Pacific times, 9 p.m. Central time, follows four girls and two boys who attend several unnamed private high schools in New York (with the exception of one social climber who goes to public school). The show is filmed in the same style as the Real Housewives series, but it seems focusing solely on minors presented some problems for Bravo. Though each of the cast members fits an obvious Gossip Girl stereotype, real teens can't be shown having sex or taking drugs so NYC Prep is comparatively tame. (As noted on Gawker, it's even hard to discuss the Chuck Bass-type cast member's seemingly confused sexual orientation, since he's an 18-year-old high school senior, not a ridiculous WB character.) Though the students are just as bratty and obnoxious as Chuck (or Countess Luann), critics say their adolescent angst is just boring and inane. Even hating them isn't as enjoyable, since the teens are just the product of parents who aren't present in their lives, who only appear on the show in a Charlie Brown adult-like capacity. Below, we check out what the critics are saying about NYC Prep.
When the characters on Gossip Girl act like jaded 45-year-olds, it's entertaining; they're fictional, reciting snappy dialogue. Real-life prep schoolers, sitting in fancy leather wingback chairs, come across as far less charming. On NYC Prep, we meet Sebastian, who hooks up with "between two and 16 girls a month,'' luring them with his fluent French and his flowing hair. We see aspiring singer Kelli and overachieving Camille, who wants her dinners with friends to be "productive'' toward her college application process. We get Taylor, the one public schooler of the bunch, who tries to keep up with her wealthier friends. They're interesting enough, but this show really centers on PC (for Gossip Girl fans: real-life Chuck Bass), an overconfident prep school senior who fancies himself a charmer, and spouts lines like "The thing about New York is, money flows like the wind.'' His foil is Jessie (in Gossip Girl terms: real-life Blair!), a snooty queen bee who speaks in a jaded monotone, plans charity events, and has used a personal shopper at Barneys New York since the tender age of 13. In tonight's premiere, Jessie grants PC an audience at a fancy restaurant. He throws a bottle of water at her in jest. She storms out. He grovels. She accepts his apology and swiftly belittles him.
G/O Media may get a commission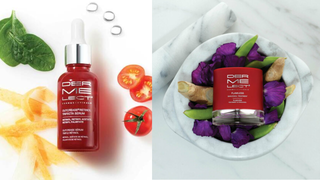 Save $19
Retinol Renewal Kit
Ultimately, the main problem with NYC Prep is that the show never gets better than its title — lacking the sociological insight to score as a documentary or the hyper-real situations and "characters" that would make it sizzle as a soap. As crass as it sounds, for something like this to truly pop requires a little more Less Than Zero than merely Clueless, which is what we initially glean from our encounters with the half-dozen featured teens.

At first blush, the boys register more strongly than the girls, perhaps because they appear less concerned about (or more oblivious to) the prospect of looking like self-centered little bastards. So pretentious 18-year-old P.C. lords over underclassmen, while 16-year-old Sebastian will surely make his folks proud by cavalierly saying, "Some girls like it if you're an asshole to them." See you on The Bachelor, kid.
Who wouldn't instantly resent and pity these [parents], who can't be bothered to raise their own kids, leaving it to the service industry professionals of NYC — boutique clerks, restaurant delivery people, spa attendants, prep school administrators — to do it for them? And yet, who wouldn't instantly envy these people, who luxuriate in their vacation home while their irritating teenagers sift out their petty troubles on an overpopulated island far, far away? NYC Prep drags out the people we know just well enough to recognize that they're very, very different from us — that grandstanding thug at work, the chick down the hall in college with the tennis courts in her backyard, the ex-girlfriend's spouse who speaks four languages and summers in Martha's Vineyard — and shows us why they're so different. We ogle their many advantages and indulgences, then soothe ourselves with how twisted and pitiable they are, swimming in such a toxic, decadent, big-city marinade. We already know that they turned out wrong, but now we know why.
Viewers are no longer shocked at tableaus of conspicuous consumption - limousines, personal shoppers, weekends in the Hamptons - even when the careless spendthrifts are children. If anything, this paean to Upper East Side plutocrats looks a little out of date - if the camera panned the other side of Madison Avenue, it would show darkened store windows and "for rent" signs. But Bravo, home to other reality shows like The Rachel Zoe Project, specializes in pinpointing stereotypes and inflating them into full-blown cartoon caricatures. The deliciously vulgar heroines of Housewives of New Jersey shop and bicker, spend and shout, without ever falling out of character. On NYC Prep, PC in particular struggles to insert a little self-awareness and humor into his role as the spoiled preppy ne'er-do-well, but the script keeps veering back to the Gossip Girl playbook.
On NYC Prep (which airs Tuesdays at 10 p.m.) though, these young people evince, above all, a need to best the unbestable, awkwardly accentuating character traits well past the point of parody. Much as with The Real Housewives of New York, the kids featured here have the air of parvenus. Certainly, by whatever metrics the social hierarchy is determined, there are others who rank higher, likely thumbing their noses at this collection of would-bes and aren't-quites.
These kids dress very well, never seem to get dirty, and have what appear to be near-flawless complexions. But their small talk is just as small as less affluent kids', perhaps smaller — much of it infinitesimal. They don't even gossip much about one another, though some appear capable of the kind of Machiavellian schemes portrayed in movies about the young and the bratty. Unfortunately, the most dramatic action in the premiere is a boy rolling a bottle of spring water across a restaurant table and into a snobby girl's lap. She is not amused.

If only these little dears were fascinating, or at least more interesting than they are on the first installment. From the looks of the previews at the end of the hour, things will be heating up in future episodes, and the first might be viewed as a scene-setting preface to battles, tattles and conspiracies to come. But how many viewers are going to stick around?
The cable network can't show its mostly underage cast indulging in sex and alcohol binges without being viewed as an accomplice and opening itself up to legal sanctions. So it is forced to focus on teens who come off as second-rate imitations of such Gossip mainstays as Blair, Serena, Chuck and Jenny...
Bravo does its level best to shove these kids into a bad light. Their on-camera confessionals all take place in a faux study in an oversized leather chair surrounded by piles of books, as if to ram the point that despite their families' wealth, these kids will never attain true class or sophistication.