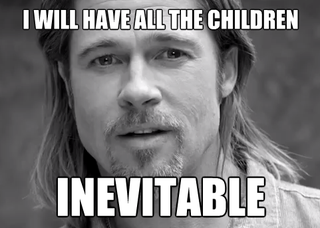 Señor Jolie-Pitt got paid a whopping $7 million for that ridiculous, poorly-lit, easily-parodied Chanel ad, but at least he's doing something good with the money: The AP reports that Pitt has agreed to match donations, up to $100,000, to the Human Rights Campaign, so that the organization can push for marriage equality.
In an e-mail to members of the Human Rights Campaign, Pitt wrote that it's "unbelievable" that people's relationships will be put to a vote on Election Day.
This dude and his homegirl are always doing something right. Inevitable.
Image via Fuck Yeah Inevitable Brad.