Because there are no official photos of the two of them canoodling on the sidewalks of Cambridge, actor Brad Pitt and smart person Neri Oxman's relationship is still nothing more than very believable rumor. But that isn't stopping tabloids like Us Weekly from dishing out some hilariously detailed gossip about their alleged romance.
This week, they published a story with what I contend is the best-written headline—by any publication anywhere—of the month: "Brad Pitt and Girlfriend Neri Oxman 'Talk on the Phone Several Times a Day' and 'Are Very Infatuated With Each Other.'" In the accompanying piece, it becomes abundantly clear that Pitt is well into chapter three of Marrying Up: George Clooney's Handbook For Nabbing A Smartypants Who'll Make You Relevant and Respectable In Middle Age, as the two are in constant communication with one another and are excited to see where the relationship goes.
A source, who could be literally anyone but Angelina Jolie or Jennifer Aniston, claims they "talk on the phone several times a day and are very infatuated with each other." Fair! She's a smart MIT professor who gives TED Talks on, like, wearable biology????? (Don't ask me to explain STEM-related things.) And he's a member of the Hollywood elite who makes up for his lack of book smarts with smoldering good looks, a 420-friendly-sensi-daddy/divorcé-who-sculpts-now narrative, and plenty of fun stories about other famous people.
While the topics covered during these frequent phone chats are unknown, I suspect they're mostly one-sided. She probably rambles on and on about, uh, cultures and molecules and...the movie Annihilation...?...as he says things like, "Fascinating," and, "I could listen to you talk shop for hours." After all, one of Clooney's tips in the previously mentioned handbook is to "let her lead—in conversation, and in bed." It's the most important tip after "share a Nespresso with your lover at least twice a day to maintain the spark and keep my spokesperson contract renewed."
---
"Yeah, for the first time in my life I was eating so much processed foods and I drank way too much sugar. I was not that fun to be around on this film...Like, all of a sudden you're just done eating that amount and then it becomes a job. I remember having to set my alarm in the middle of the night in order to just maintain [the weight]...I would literally wake up at 2 in the morning and I'd have a cup of cold macaroni and cheese just next to me...I would wake up and I would just eat it … I would just, like, shove it in my throat. It's hard to maintain that weight."
- Charlize Theron, on gaining 50 pounds for Tully
[Page Six]
G/O Media may get a commission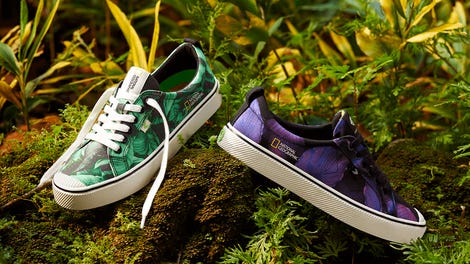 New New New
Cariuma + National Geographic
---
A good tweet:

---