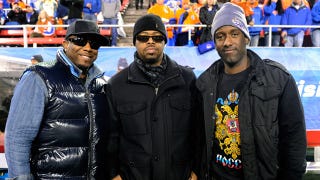 If you've worn out your copy of II, fear not.
Boyz II Men is back with some brand new jams you can make love to your lady to, plus "10 newly recorded and updated versions of Boyz II Men classics such as "End of The Road," "I'll Make Love to You" and "Bended Knee."
How can you update these classics, you ask?
I have no idea, so let's hear what some of the members of Boyz II Men have to say:
"We started with a pure love for music, so to be here 20 years later still doing what we love has been a pure blessing," singer Wanya Morris said in a statement Thursday.

Shawn Stockman, the group's tenor and a judge on TV's "The Sing-Off," said, "From Day 1 our fans have been amazing, they've seen us grow from boys to men, so we owe all our success to their continued support."

"No matter how many albums we have done throughout the years we always strive to put out the best sounding music possible," said singer Nathan Morris. "We are excited to be in the studio again with the guys who have been a part of some of our biggest hits to date. It's a really good feeling."
If their new record has constant references to growing from boys to men, consider me sold.