Michelle Obama's inauguration outfit is on display for the first time! Obviously, we had to go see it.
The outfit - sorry, the "lemongrass yellow wool lace shift dress with matching overcoat " - is the centerpiece of Isabel Toledo's retrospective show, which opened last night at the Museum at FIT. To the fashion outsider, walking through the doors of the 7th Avenue building was akin to the moment when the golden ticket-holders are first ushered into that room full of lollipop flowers and chocolate waterfalls and Gene Widler sings "Pure Imagination": bizarre, fantastical, somewhat sinister. Kenny Loggins wasn't playing, though; Santana was, although it was hard to tell over the din of shrieks and air-kisses.
Vogue editor Andre Leon Talley was there, holding court in some kind of docent's robe, and refusing to let fashion fan-girls take his picture "because I don't know where it might end up." ("Bitch!" he screamed delightedly when Narciso Rodriguez appeared.) Photographer Bill Cunningham darted about, elongating his vowels and taking down the names of those in the most outrageous getups. His muse, Louise Doktor, was there too. And someone in a sort of pink velvet admiral's hat. Simon Doonan wearing a jacket whose back read "There is No Such Thing As Good Taste." A couple who sort of looked like Buckingham-Nicks, if Buckingham-Nicks were also art collectors with a home in Tuscany, and wore buckskin trousers to boot. And a man in a thong. Lots of Toledo, of course, distinguished by its intricate craftsmanship and the wealth of its wearers. The unofficial dress code seems to have been "Victorian school-boy" but "Damon Runyan" got its fair share of play, too.
The Toledos, looking characteristically dashing, spent the entire time talking very nicely to friends and admirers and posing for pictures with anyone who wanted them to. Also very nice were Lynn Yaeger, Austin Scarlett and Betsey Johnson, all looking like themselves, except that in Scarlett's case this also kind of means young YSL. Many others were satisfyingly horrible. Presumably as a nod to Toledo's Cuban heritage, the nibbles were Latin-inflected: little empanadas, a sort of chicken and refried-bean wrap, and one thing composed of a miniscule pastry shell, three black beans, and two corn kernels.
The exhibit is downstairs. It's beautiful; there are Toledo's origami shapes, the zig-zag and the tube; her work with lace; the unbelievably pretty work for Anne Klein, with the textiles her husband designed. All of it polished and intricate and engaging, with Ruben's illustrations throughout.
G/O Media may get a commission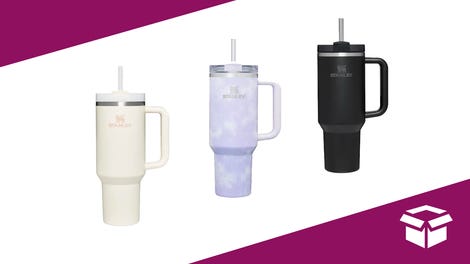 Up to 45% off
Stanley Cup Sale
And there, of course, is The Outfit. The "lemongrass yellow wool lace shift dress with matching overcoat." People were having their friends take their picture next to it, so it took a little while to get a good view. The first thing one thinks is, "Michelle Obama is really tall." The "wool lace" is a lot woollier, and more crewel-like, than one realized. The chiffon ribbons seem particularly benign and uncontroversial and demure, behind glass. It's nice. You don't feel any closer to Mrs. Obama or anything, but it's nice. "Splendid!" someone bellows behind you, and you have to move along.