Now that fashion week is over, today's WWD poses a question: Where were the black models? "Everyone is always talking about the weight issue," photographer and America's Next Top Model judge Nigel Barker says. "I think they should be talking about race." Barker says that the celebrity designers — not the ready-to-wear or couture ones — are willing to use a wider range of models. And, in our experience, it was the "outsider" shows, not held in the tents — Baby Phat/KLS, Heatherette — in which we saw black (and Asian) women walking the runway. Last Friday, at a panel discussion called "The Lack of the Black Image in Fashion Today," WWD reports that Bethann Hardison, a former model and founder of casting company Bethann Management, says "In the United States of America, this is the one industry that still has the freedom to refer to people by their color and reject them in their work. I came up in the Sixties. I feel it's the worst it's ever been."
The underrepresentation of black women on the runway comes despite the fact that, according to estimates by Targetmarketnews.com, black women alone spend more than $20 billion on apparel each year.
And though there is a lack of black models, designers and photographers, there is a noticeable increase in Asian models, designers and executives in the industry, says WWD.
Of the 101 shows and presentations posted on Style.com, 31 appear to have no black models. Most of those who did use black models opted for one or two. However, Heatherette, Diane von Furstenberg, Charles Nolan, Tracy Reese, Yigal Azrouël, Philip Lim, Marc Jacobs, Jenni Kayne and Sue Stemp were among the designers who used more than two. Heatherette, von Furstenberg and Lam each opened their shows with a black model. In fact, von Furstenberg closed her show with the opening girl, too, and the first 10 models at Heatherette appeared to be women of color.
Naomi Campbell, who flew in from London for the panel discussion, recalled how Christy Turlington once told Dolce & Gabbana, "If you don't use Naomi, you don't get us," referring to herself and Linda Evangelista. Designer Tracy Reese, who is black, was also on the panel. She said that her booker has to request certain (black) models, otherwise the agencies will not send them.

Cosmetics industry mogul Iman said she felt strongly about organizing a union for models, noting it's the only huge industry that does not have one. "Models don't have a union. They don't have a voice. No one speaks for them. Thank God I'm not a model anymore."
Not one to let a subject like this pass her by, Tyra Banks is working on a segment for her show about race in the fashion industry, according to Fashionista. Chanel Iman, who opened the Heatherette show (and was sort of on the cover of Vogue) will be a guest on the Tyra's program.
G/O Media may get a commission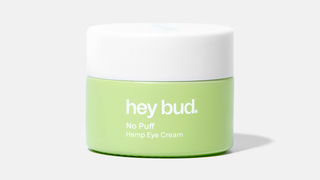 15% off
Hey Bud - No Puff Hemp Eye Cream
The defense of designers who opt for girls who all look alike is often that they want the focus to be on the clothes and not the models. But when a designer sends out a collection on a runway, he or she is offering up a vision of an ideal world. However you feel about the fashion industry or modeling itself, is it not disturbing that so many designers consider a perfect world to be one without any black people?
Where Were the Black Models? [WWD]
Little Diversity in Fashion: African-Americans Bemoan Their Absence in Industry [WWD]
Tyra Hearts Chanel Iman, Heatherette! [Fashionista]
Earlier: Death Of The Black Model?
Chanel Iman: Just Your Regular 16-Year-Old 'Vogue' Cover Model
Magazines Targeted To Black Women Suffer & Die
Crashin' Show: Heatherette