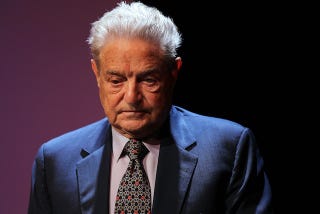 Brazilian soap star and Columbia University student Adriana Ferreyr, 28, is suing billionaire financier George Soros, 80, for promising to give her two million dollar apartment and then giving it to someone else. The $50 million suit also says that he slapped and tried to choke her during an argument, which Soros denied. (She called the cops, but no criminal charges were filed).
According to Ferreyr's suit, Soros cruelly gave the $1.9 million Upper East Side apartment she'd had her heart set on to another woman. (This is considered modest by local standards). Later, she claims, he promised her a $4.3 million apartment but that never came through either. Soros' lawyer told the post, "Mr. Soros did have an on-again, off-again and non-exclusive relationship with Ms. Ferreyr. The complaint is riddled with false charges and is obviously an attempt to extract money from my client, who is a very wealthy man."
The New York Post exercises remarkable restraint in the way it reports this, relatively speaking, considering that Soros is a conservative bete noire for funding liberal causes. (The same judiciousness could not be detected in yesterday's Post cover.) The conservative Human Events took the bait, calling him a "leftist sugar daddy," and saying of the private-air fueled affair,
There you have it, liberals: everything you supposedly loathe, packed into the thousand-dollar shoes of the man who funds so many of your media operations. He obviously has all sorts of money he "does not need," and should be "paying his fair share," to quote Barack Obama. He uses his fortune to snag far younger women, who he treats either shabbily or atrociously, depending on how many of Ferreyr's allegations you believe. The denunciations of Soros from the Left should be deafening!
We're not official representatives of anyone, the capital-L Left among them, but we'll go for it. George Soros should pay more taxes! We are against domestic violence as alleged! As for allegedly being kind of a dick to women who are clearly very interested in monetary reward, that sort of transaction is between them.
George Soros Sued By Ex Girlfriend For Reneging On Real Estate Promise [NYP]
Soros Slapped With Slapping Suit [Human Events]