In her first interview since her mother, Carrie Fisher, and grandmother, Debbie Reynolds, died within days of each other, Billie Lourd talked with Sarah Paulson for Town and Country magazine. The interview contains lots of little nuggets about family life with a truly wild family.
Paulson was a good friend of Fisher's, and in separate interview, Paulson told the Hollywood Reporter that she has known Lourd since she was a child, and was often included in Fisher's life before her own career really took off. At one point, Paulson comments to Lourd that time at her father's house was the complete opposite of what it was like when she was in her mother's custody, and Lourd agrees:
BL: He gets home at the same time every day, and we eat dinner together, we do homework together, we watch Extreme Makeover: Home Edition and cry, and then go to sleep. At Mom's it was like, "Let's put Christmas lights in the palm trees at 2 a.m." Do you remember when Sharper Image was 24 hours?

SP: Sure do.

BL: We went there all the time, 1 a.m. or 3 a.m., just picking up little trinkets as if that was what you do!
Can you imagine getting to wander through a Sharper Image with Carrie Fisher at three in the morning? Paulson leads into Lourd's burgeoning acting career, which started with Scream Queens and has taken her to the current horrifying American Horror Story season. Lourd had a lot of tips to offer about how to conduct yourself as a famous person, learned from both her mother's behavior and Fisher's straight up excellent advice:
SP: How did you feel about her sharing those things?

BL: I had a hard time with it in the beginning. I was very protective of my dad and would stop her and be like, "Can you take out that thing where you say, 'I turned him gay.' Can we not have that on Broadway?"

SP: Did she listen to you?

BL: She did. Debbie did it to her, so anytime I came up to her and said, "Please tone this down," she would, because she went through it with Debbie and knew how hard it was. Now, looking back and watching her interviews, I try to model what I do after her. She was so good at it. She would get so annoyed with me if I ever did a fake interview. She'd say, "Tell the real story."
G/O Media may get a commission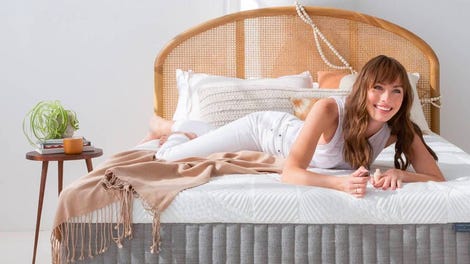 Sleep Sale
Sleep Sale - Brentwood Home
Lourd also shared this sweet and classic story about Reynolds' insistence on the importance of having "an act":
SP: Did you get any advice from your family about this business?

BL: Debbie was still encouraging me to put an act together. Literally three days before she died, she was like, "What numbers are you going to put in your act? Who are you going to impersonate?" I said, "I don't think people do acts as much anymore." And she came back, "That's why if you do one you'll be more successful than anyone else. The act is a dying art, and someone needs to revive it."

SP: I remember standing in the Red Room off the bar in the house and your mom saying to me, "You've got to find the funny, Paulson. If you don't find the funny, you're doomed."

BL: Oh, it's so important. If life's not funny, then it's just true—and that would be unacceptable. Even when she died, that was what got me through that whole thing. When Debbie died the next day, I could just picture her saying, "Well, she's upstaging me once again, of course—she had to."
Please, someone revive the "act."
In a bittersweet moment, Lourd reflects that loosing such two huge personalities from her life has an unexpected side—she's not competing with them anymore.
SP: How has your life changed since your mother and grandmother passed?

BL: I've always kind of lived in their shadows, and now is the first time in my life when I get to own my life and stand on my own. I love being my mother's daughter, and it's something I always will be, but now I get to be just Billie.
You can and should read the whole interview, which has many more stories about this legendary mother-daughter duo.