Bill Cunningham, the legendary Times street-style and nightlife photographer, was hit by an S.U.V. outside the Reed Krakoff show yesterday afternoon. Cunningham, who is in his mid-80s, was reportedly uninjured, and continued shooting. The former milliner and beloved presence at fashion week was the subject of last year's excellent documentary, Bill Cunningham New York. [@misternewton]
---
Jeremy Scott showed a collection of shiny, sparkly, rainbow-colored clubwear. The references were mostly to online pop culture — dresses emblazoned with emoticons and the cursor finger — and also to The Simpsons (hello, "Bartman" sweater). The show unfurled to foreign-language covers of hits by Madonna and Michael Jackson: eery and familiar, all at once. Also, Joe Jonas was there.
---
G/O Media may get a commission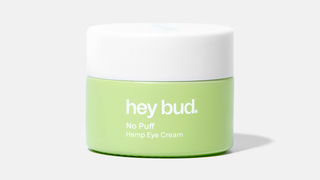 15% off
Hey Bud - No Puff Hemp Eye Cream
The Blonds has the best people-watching at any fashion show. Always. Last night, we were so distracted by the man with the foot-long spiked hair and the woman in the underbust corset and black sparkly pasties to quite notice Lil' Kim and Adam Lambert (who was wearing freaky orange contacts in his heavily kohl'd eyes). On the runway sat two of those futuristic electric motorcycles that Olivia Wilde rides in the remade Tron. The corsets were, appropriately, motorcycle-themed, with chains, quilted leather, and zippers and studs like on a motorcycle jacket. The echo of Thierry Mugler rang through the collection, but nothing on display was too close to his famous motorcycle dress. The brand also showed men's wear for the first time. For men who really, really love rhinestones.
---
Coco Rocha dances in this new ad for White House Black Market. [YouTube]
---
The spot is mentioned in this article about mass brands picking top supermodels as faces for spring. For example: Karolina Kurkova is now selling you pants at the Limited. [WWD]
---
Liv Tyler sings the old INXS song "I Need You Tonight" and gets her body rubbed by male models in this Givenchy perfume ad. [YouTube]
---
Victoria Beckham, Hamish Bowles, and Anna Wintour were among the famous U.S.-based Brits featured in a Grand Central Terminal photo-op intended to promote New York City as a tourist destination. That's right: Anna Wintour and Victoria Beckham set foot in the subway. In other news, this article reports that Beckham's dress line generated $47 million in sales last year. [WWD]
---
Occupy Wall Street is planning to disrupt this afternoon's Calvin Klein show. The protesters want nothing more than to give show-goers some makeup! Bright red eye makeup that mimics the red eyes of pepper-sprayed protesters, that is. And "an autonomous entity called the the Queer Transgender Direct Action group" may try to shut down the 3 p.m. show. [Gawker]

Calvin Klein's PR emailed this to invitees:

As a reminder, you are confirmed to attend the Calvin Klein Collection Fall 2012 Women's show today at 2PM. We have been made aware that the Occupy Wall Street movement has plans to stage a non-violent demonstration in the vicinity of our show. Please note that we have taken extra security efforts to ensure the safety of our guests and that the entrance process into our venue is as seamless as usual. In light of this, all guests will be required to show email verification of a seat assignment and a form of photo identification. Please bring both with you this afternoon.

[Styleite]

The Times has written its second article in as many days criticizing Marc Jacobs for knowingly flouting fashion week's suggested age guidelines and hiring two models aged just 14. Jacobs is on the board of the Council of Fashion Designers of America, the very organization that issues the guidelines, which also ask that designers not keep models under 18 working past midnight (fashion show fittings are often scheduled through the night).

As the industry debates whether designers should be held to regulated standards, one question that continues to challenge them is why they would want to show clothes for adults on children in the first place.

The paper also notes the irony of Jacobs' underaged cast given the designer claims his collection was inspired by older women, particularly fashion stars like Anna Piaggi and the women of Advanced Style. But the real zinger is in the kicker:

[H]is stance is provocative for a number of reasons, considering his leadership position in New York fashion. Especially so this season, because his models wore enormous Dr. Seuss-style furry hats that pretty much covered their heads. The cleaning staff could have been under those hats, and nobody would have been the wiser.

It's nice to see the Times Style section holding some feet to the fire. [NYTimes]

Kate Upton Tweeted a sassy response to Sophia Neophitou-Apostolou, the Victoria's Secret casting director who told the Times that the brand would "never" book the Sports Illustrated: Swimsuit Edition covergirl because she looked too much like "a footballer's wife, with the too-blond hair and that kind of face that anyone with enough money can go out and buy." Wrote Upton, "I wanted to thank Neophitou from @VictoriasSecret 4using my face as inspiration 4 her next plastic surgery appointment." She followed up with, "Sophie luvI can tell u took it personally that I didn't even cast to be in your fashion show but I had a previous commitment with Si #sorry." (Oh, and, [SIC].) [@KateUpton, @KateUpton]

Rachel Zoe and Brad Goreski were both invited to the Marchesa show, which must have been awkward since now they hate each other. Zoe made sure to go right up to Goreski's seat — and then warmly greet the woman sitting next to him. She ignored her old assistant completely. [Us]

Zelda Kaplan, the 95-year-old retiree who was a frequent subject of Advanced Style, collapsed in the front row at the Joanna Mastroianni show yesterday. She was carried out by security, but attempts to revive her failed, and she was pronounced dead at a nearby hospital. Kaplan was known for her style and for her love of dancing and nightlife. When Ari Seth Cohen of Advanced Style asked her for life advice, Kaplan replied, "You must be interested in the world, and not in your own self." [WaPo]

Fashionista has a sweet round-up of various fashion-y people's first fashion week memories. Jenna Lyons was an assistant dresser at a Calvin Klein show when she saw the First Lady of France get naked:

"I was dressing Cordula [Reyer], who was, you know, an Amazon and lovely and so gorgeous and the most crazy thing happened. I remember Calvin asked Carla Bruni to change into this dress because it wasn't working on another girl and she dropped her clothes and just stood there buck naked and I had never seen a body like that in my life. I was completely blown away and I was like, 'OK, now I understand why they're models.' She looked like a creature."

Erin Fetherston also has a Calvin Klein-related memory: as a 19-year-old Elle intern, the designer sneaked into a Calvin Klein show with a fake ticket someone from the magazine's art department had copied for her. Emmy Rossum reflects on fashion week in general, "It just seems busier every single year and everyone gets skinnier and they have more clothes on and bigger bags." [Fashionista]

The most ubiquitous celebrities at fashion shows and after-parties this week? Sofia Vergara, Stephen Dorff — who was also at the Diesel party, not mentioned in this article — and Jared Leto. [NYDN]

Lynn Yaeger says that this season, she has noticed fewer celebrities at the shows than normal:

Claire Danes, and maybe some other famous people, are among the attendees at Narciso Rodriguez — though, if you leave out the usual gang at DVF, this has been a fairly celebrity-deprived week (which is usually a good thing, except that when the clothes are boring, now you can't even scan the front row for vaguely familiar faces. At Rodarte, my seatmate insists that a woman across from us is Janice from Friends, but who will ever really know?)

Yaeger made no mention of Marc Jacobs' collection, which the designer said was partly inspired by the critic. [The Cut]

"Like a Wall Street bonus before Dodd-Frank, the pretty excess of Oscar de la Renta's fall collection was without limits." That's a nice image, Women's Wear Daily, except that Dodd-Frank did not limit bonuses. [WWD]

François-Henri Pinault, the head of luxury giant PPR, which owns Yves Saint Laurent, that with regard to YSL's ongoing trademark battle with Christian Louboutin over the use of red soles in footwear, he is "very confident" that the judge will side with YSL. But he also says of the lawsuit, "I regret it, because these are two great houses and I think we have better things to do than to fight in court over a question of color." [Telegraph]

Abercrombie & Fitch, which has struggled in the recession, and which just saw its fourth-quarter profits decline by 79% year-on-year, is planning to continue closing U.S. stores. It shuttered 71 last year, and it has another 180 on the block for closure by 2015. Reports WWD:

The company, which already shuttered 135 stores over the past two years, is on track to cut its U.S. store count by 315, or 29.1 percent, over the five-year period leading up to 2015. The firm currently has 946 domestic stores.

[WWD]

The value of Louis Vuitton Moët Hennessy's 20.2% stake in Hermès grew by $2.37 billion last year, to a cool $6.99 billion. [WWD]

The Times has a piece on female street-style photographers, including Hanneli Mustaparta, Tamu McPherson, and Vanessa Jackman. It seems to marvel at their collegiality:

the field of street photography is becoming increasingly crowded, yet there appears to be little rivalry among these potential competitors. It's unlikely that editors from rival fashion glossies would show one another next month's cover and ask for feedback, but that happens between rounds of shooting outside the shows.

Imagine: women, working in fashion, not treating it as some kind of bloodsport stiletto-fight. [NYTimes]

Lord & Taylor is aiming to compete with Macy's, H&M, and Target designer collaborations by launching a limited-edition line by designer Yoana Baraschi. [WWD]

Speaking of collabs, the legal battle over Martha Stewart's attempt to yank her homewares line from Macy's shelves and sell it instead via J.C. Penney is still raging. The latest: Macy's says it is being held hostage by Martha, Martha says Macy's breached their contract by "failing to maximize net sales" of the line in dispute. Lawyers are also expected to argue over the definition of a "store." [WWD]