So, sure, we've all been having a good chuckle over the hilarious Amazon.com reviews for Bic's fucking stupid "Bic for Her" line of pens. (I mean, women can use men's pens but all that comes out is pesky math and science. And what are we going to do with that!?) But it turns out that the nefarious pen industry's sexism runs much, much deeper than some stupid pink tampon-packaging.
Business Insider did a little business math and concluded that "Bic for Her" pens cost as much as 70% more than non-gendered pens, even though the two are functionally identical (the only difference being that the lady-pens are pink, because of vagina).
Which totally makes sense, since women make 70% more money than men!!! Oh...wait.
Here's a breakdown of their findings:
1. Bic Retractable Ball Pen, Medium Point, 1.0 mm, Assorted Ink Colors

BIC For Her Fashion Retractable Ball Pen: Pack of 2 Pens - $5.60 ($2.81 per pen)
vs.
BIC Velocity Retractable Colorful Inks Ball Pen: Pack of 4 Pens - $3.37 ($.84 per pen)

2. Bic Retractable Gel, Medium Point, .07 mm, Black Ink

BIC for Her Retractable Gel: Pack of 2 - $5.79 ($2.89 per pen)
vs.
BIC Triumph 537 Retractable Gel Medium Point Pen: Pack of 12 Pens - $10.68 ($.89 per pen)

3. Bic Cristal Ball Pen, 1.0 mm, Black

BIC Cristal For Her Ball Pen: Pack of 16 - $7.61 ($.47 per pen)
vs.
BIC Cristal Stic Ball Pen: Pack of 12 - $4.11 ($.34 per pen)
G/O Media may get a commission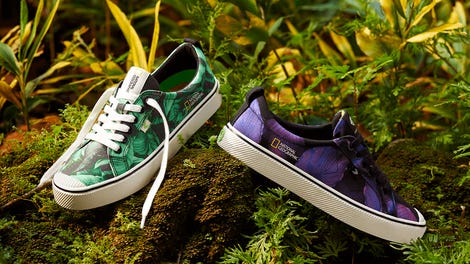 New New New
Cariuma + National Geographic
In case that didn't sink in, a "Bic for Her" retractable ball (HEH) pen costs $2.81 per pen. But an ordinary Bic retractable ball (HEEEEEH!) pen is only $.84 PER PEN. So not only do women have to weather that sinking feeling of being treated like drooling simpletons who are dazzled by shiny objects, just to use a fucking pen—we also have to pay an extra $2 for the privilege. Because a man with a pen is just a man with a pen, but a woman with a pen is a Vaudevillian sideshow act waiting to be suckered into buying expensive garbage? Thanks a lot, dicks. PILOT 4 LIFE.