Beyoncé is featured on the new cover of noted French fashion magazine L'Officiel Paris. The publication is celebrating its 90th anniversary; Ms. Knowles joins the festivities by "paying tribute" to Nigerian musician and human rights activist Fela Kuti. Apparently she went to see the Broadway show Fela! and was inspired to use his music as an influence on her upcoming album. The magazine photo shoot is tied in somehow, with an "African Queen" theme. According to a statement from the mag:
Far from the glamorous Sasha Fierce, the beauty posed for the magazine with amazing fashion designers clothes, but also in a dress created by her mother. [It is] A return to her African roots, as you can see on the picture, on which her face was voluntarily darkened. All the pictures will be available in the collector edition, on sell at the end of this month.
While this is not blackface in the traditional sense, it still raises so many questions. Why didn't she go whole-hog and have her body painted, too? is this yet another case of how much fashion loves blackface? Is it still blackface when the woman is black? Is it still offensive when it's meant as a tribute?
Some thoughts: It's fun to play with fashion and makeup, and fashion has a history of provocation and pushing boundaries. But when you paint your face darker in order to look more "African," aren't you reducing an entire continent, full of different nations, tribes, cultures and histories, into one brown color? What makes someone black — or African, for that matter — is not her skin tone. The African diaspora reaches from Brazil to Haiti to the United Kingdom and Pakistan. It's one thing to feel moved by Fela Kuti, and quite another to treat blackness as a fashion accessory, like a pair of glittery heels you put on because it looks cool. What if Beyoncé were an Asian singer painted to look like a geisha, or given exaggeratedly almond eyes? Perhaps even more important: By painting Beyoncé's face darker, aren't the French fashion editors basically treating her like they would a white model, i.e. a blank-palette object on which to place concepts? And not an actual, authentic black person with African heritage?
It's tough to pin down whether the face darkening (along with the "tribal" cheek stripes and cheetah jacket, probably from Gucci) is offensive, exactly, or just in poor taste. I only know that I don't like it. And instead of wearing an "African" dress designed by her mom, I wish B. had worn something by a designer like the ones showcased at Arise Africa Fashion Week. On the upside, maybe people who never heard of Fela will discover some awesome music. But since Beyoncé's skin looked a lot lighter in L'Oréal ads, and women like Aishwarya Rai Bachchan and Gabourey Sidibe had their faces lightened for magazine covers, and black models are so rarely seen on deisgners' runways, the message we're getting from the fashionistas is that it's bad to actually have dark skin, but totally cool to pretend you have it.
G/O Media may get a commission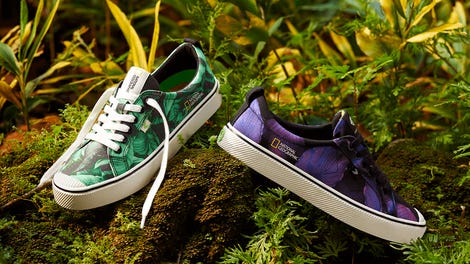 New New New
Cariuma + National Geographic
Beyonce Black Face In L'Officiel Paris: Fela Kuti Tribute [RnB Music Blog, via The Smithian]
Earlier: Beyoncé Photoshop Of Horrors
Is It True That "The Whiter You Are The More Successful You Will Be"?
Lawsuit Rumors For Elle Skin-Lightening Controversy
The Latest Blackface Fashion Shoot Is Extra-Tasteful
Australians Can't Get Enough Of Blackface
Oh No They Didn't: French Vogue Does Blackface
Blackface: Officially A Trend
ANTM Models In Oh-So-Trendy Blackface Shoot
Madonna: "I Did A Photo Shoot With Steven Klein, And I Painted My Face Black"
Karl Lagerfeld & Claudia Schiffer Do Blackface