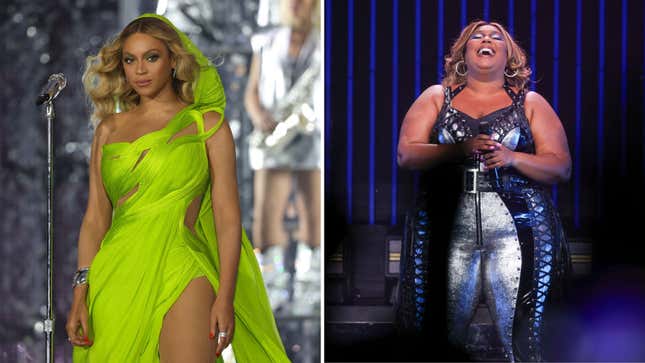 Beyoncé gave Lizzo a public display of support during the second Atlanta stop of her Renaissance tour on Monday night amid the gnarly claims leveled against the singer by her former back-up dancers. During the performance of "Break My Soul (The Queen's Remix)" at Mercedes-Benz Stadium, Beyoncé shouted, "Lizzo. I love you, Lizzo!" during the part of the song where Queen B, well, names other queens.
The show of support from one of Lizzo's biggest role models comes after a rough two weeks for the singer. On Aug. 1, three of her former dancers filed a lawsuit against Lizzo, her production company Big Grrrl Big Touring, Inc., and dance team captain Shirlene Quigley. The three former dancers—Arianna Davis, Crystal Williams, and Noelle Rodriguez—allege that working for Lizzo was supposed to be a dream, but was instead a nightmare of a hostile work environment with rampant sexual, religious, and racial harassment.
"The stunning nature of how Lizzo and her management team treated their performers seems to go against everything Lizzo stands for publicly, while privately she weight-shames her dancers and demeans them in ways that are not only illegal but absolutely demoralizing," Ron Zambrano, the plaintiffs' lawyer, said in a statement at the beginning of the month.
Lizzo vigorously denied the claims. In a lengthy statement on Instagram, the singer wrote, "These last few days have been gut-wrenchingly difficult and overwhelmingly disappointing. My work ethic, morals, and respectfulness have been questioned. My character has been criticized. Usually, I choose not to respond to false allegations but these are as unbelievable as they sound and too outrageous to not be addressed."
She said she was "hurt" by the allegations but will continue working. "I am not here to be looked at as a victim, but I also know that I am not the villain that people and the media have portrayed me to be these last few days."
It's not just these handful of dancers that have spoken out about working with Lizzo. Her former documentary director, Oscar-nominated filmmaker Sophia Nahli Allison, walked away from working with the singer after two weeks. "In 2019, I traveled a bit with Lizzo to be the director of her documentary. I walked away after about 2 weeks," Allison said in a statement on social media. "I was treated with such disrespect by her. I witnessed how arrogant, self-centered, and unkind she is."
"I was not protected and was thrown into a shitty situation with little support," Allison wrote. "My spirit said to run as fast as you fucking can and I'm so grateful I trusted my gut. I felt gaslit and was deeply hurt, but I've healed."
What's particularly interesting about Beyoncé's shout-out is that she had previously removed Lizzo from the song. During a performance of "Break My Soul (Queen's Remix)" on Aug. 1, Beyoncé instead repeated singer and rapper Erykah Badu four times, according to social media video.
I guess time heals all remix exclusion wounds.