Beyoncé season is upon us, and everybody will be wearing activewear during it. The tidal wave (ha) hit us Thursday morning in the form of a Bey's presence on the cover of Elle's April issue, and a look at her upcoming Topshop activewear line, Ivy Park.

After teasing a Beyoncé-related surprise, Elle dropped the cover featuring a curly Beyoncé ruining all of our lives in yet another leotard. (She's also on the cover of Elle UK.)
The cover introduced the promotional video for her Topshop line, which will also be available at Nordstrom, so start preparing now to be trampled in a mad rush for leggings and sports bras.
In the video, we see Beyoncé and her natural hairline engaging in a variety of exercise—running, biking, swimming—and describing the discipline she learned, running through Parkwood Park. (Parkwood is also the name of her management company.)
G/O Media may get a commission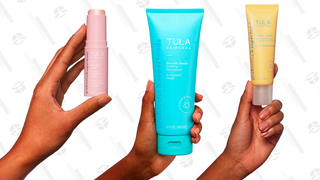 "The park became a state of mind," she narrates, finally asking us: "Where is your park?"
The collection looks cute, if not exactly groundbreaking—although, I'm not sure how many more strides we can make in activewear anyway.
We've got Beyoncé running on a treadmill in wedge sneakers which, while probably dangerous, is very her.
In a month, everyone on the street will be wearing an Ivy Park headband.
Or maybe spring for this clean hat instead.
It looks like the collection will include swimwear.
And some post-workout footwear also.
Of course, none of this would make sense without a body suit that you will probably wear a lot of places, but never the gym.
We were also blessed with a Blue Ivy appearance which seems apt considering her name is in the whole dang thing.
Finally, let's just take a moment to appreciate all the hard work this woman puts in. It shows. Goddamn, it shows.
If this isn't a sign that her new album is INCREDIBLY NIGH then I don't know what is. Beyoncé's issue of Elle (which they say includes "a rare in-depth interview") will be on newsstands April 6th and the Ivy Park collection will be in stores on April 14th.
---
Images via Ivy Park