Beth Ditto — who is known for applying her own makeup with great precision — is launching a limited-duration collaboration with MAC. This actually makes total sense, given the singer's interest in makeup comes off as genuine, and that she's talked in interviews about how she loves to do her friends' makeup. And how awesome is that promo shot? The collection will be in stores this June. [WWD]
---
French Elle published an online opinion column written by a contributor named Nathalie Dolivo. The topic? How great it is that Barack and Michelle Obama are inspiring black people to follow "white codes" of dress. "Chic," wrote Elle has at last become a "plausible option" for black people, who until now had only conceived of fashion as "streetwear." For any member of the white-code-dressing "black-geosie" who wants to add an "ethnic" touch, Elle suggested a "batik-printed turban." As Claire Sulmers puts it on Fashion Bomb Daily, "Dear Magazines: This is what happens when there are no black people on staff." The column has been pulled, without acknowledgment or apology. [Fashion Bomb Daily]
---
G/O Media may get a commission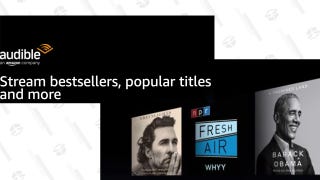 FREE
Audible Premium Plus 3-Month Free Trial
Here's Brooklyn Decker in the poster for What To Expect When You're Expecting. [JustJared]
---
Jean-Paul Gaultier's couture collection — review and full slideshow to come — was inspired by the late Amy Winehouse. Andrej Pejic walked. [Sun]
---
Natalia Vodianova is returning as the face of Stella McCartney for spring. [WWD]
---
Karl Lagerfeld interviews himself in his library to promote his new KARL lower-priced line in this video. "I'm never happy with myself," he says. [YouTube]
---
The line is fronted by Anja Rubik, Saskia de Brauw, Arizona Muse, and Sui He. [WWD]
---
Vogue Paris' Web site is getting a much-needed revamp on February 6; look at that clean, clean screenshot. [The Cut]
---
This Stéphane Rolland couture gown, worn by Yasmin Le Bon on the runway, weighs 110 lbs. Rolland is known for his preference for heavy materials and embellishments, including plastic fins and discs, but this dress was made of silk jersey and "lacquered metal appliqués." [AP]
---
Council of Fashion Designers of America president Diane von Furstenberg's seasonal open letter to the fashion industry was released this morning, and it shows the CFDA is renewing its efforts to insure only models over 16 walk the runway at New York fashion week. Last season, von Furstenberg pushed that very initiative, but several agencies and designers flouted the guideline by either misrepresenting girls' ages or failing to properly check, and girls as young as 14 walked in top shows for brands including Marc Jacobs, Prabal Gurung, and Tory Burch. This season, von Furstenberg encourages everyone to card their models. "Any model walking in the Diane von Furstenberg runway will have shown i.d. prior to the show," writes the designer. Also new this season? The CFDA mentions a new organization called the Model Alliance, which is a nonprofit dedicated to improving labor standards for models. (Disclosure: I am a member of the Model Alliance board. I can't say anything more at this time, but watch this space.) "On behalf of The Model Alliance," writes von Furstenberg, "we also encourage you to consider model privacy and to have the photographers cleared for first looks." ("First looks" is the time when, after hair and makeup is done, the models actually start changing into the collection backstage.) Many models have complained about invasive photography backstage at fashion shows, where there are no private changing areas, and where these days, everyone within shouting distance is walking around with 8 megapixels and an Internet connection in his or her pocket. Unauthorized images of models in the nude, or in nothing but their tiny flesh-toned g-strings, have been published. Doing a sweep to clear non-essential staff from the part of the backstage area where the models are actually changing clothes actually makes a lot of sense to us. [The Cut, Model Alliance]

Although Calvin Klein and his much-younger porn star boyfriend, Nick Gruber, had been rumored to have broken up, the former designer says they are "not not together." [P6]

Here is a comprehensive investigation into women's clothing sizing, and the ways in which it is terrible. And which, by the way, people have been complaining about and writing articles about the illogicity of since 1927. [Slate]

Karl Lagerfeld finally joined Twitter officially. Unfortunately, his feed is really boring and obviously not written by him (seeing as it refers to Karl in the third person). We will continue following @FakeKarl instead. [@KarlLagerfeld]

Our favorite person, Waris Ahluwalia, is launching a Valentine's Day collection called Boo by House of Waris. But is he still single? [The Cut]

Big changes are afoot at J.C. Penney, which is under new leadership. The company has announced a slew of new designer collaboration lines, including Nanette Lepore's coming tween line l'amour, and it's changing its pricing structure. Starting February 1, it's permanently dropping its prices by 40%. In exchange, it's getting rid of hundreds of scheduled sales on various items. It's the initiative of the new C.E.O., who came from Apple, a retailer that rarely sells its merchandise at less than full price. So crazy it could almost work? Or just crazy? [HuffPo]

H&M officially had a shitty 2011. Profits declined by 15.3% from 2010, to $2.34 billion. Sales rose just 1.4%. The company says it plans to open 275 stores worldwide in the current fiscal year. [WWD]

The Row, the Olsen twins' fashion line, poached the president of Prada, François Kress, to be its new president and C.O.O. [WWD]

And now, a moment with Wisconsin-raised plus-size model and performance artist Myla Dalbesio. She tried straight-size modeling — and bulimia — before joining the plus division at Ford while she was in art school in New York. Myla, what's it like to make that kind of a transition?

Even after I signed with an agency it took me years to get over the year that I was trying to be a straight size model. It really gets inside your brain. I think modeling can be so nourishing and creative but there's also this side that's so petty and judgmental and dark and disgusting and it's really hard to deal with that. One would think that when you are on this side of the industry all the body scrutiny stops, but it doesn't. Either you're too big or too small — you're not plus enough.

And...why not one more moment while we're at it. Myla, when Marquita Pring casually mentioned that sometimes clients like her to wear padding for shoots, people got mad. (Just when you think you know all the ways that fashion images can be manipulated, there's a new one.) What's your take on padding?
Here's the thing with padding. I remember when Marquita exposed that padding went on and it was like 'padding-gate 2011.' Sample sizes in the straight size world are all the same size. Sample sizes for plus are not all 14s or 16s, it's all over the board. On top of that, the sizes in plus are not regulated at all so a 14 in one brand is totally different than a 14 in another brand. For example, I work with Saks a lot, and they get all these samples in and they're all different sizes but they have to shoot them all in one day, so sometimes padding is necessary to fill out a garment that needs to get shot but you have to have someone who is small enough to fit into the smaller sizes. It's tough because you don't want to deceive people. I don't down someone in the midwest to look at a photo of me wearing clothes and have it make them feel bad.