Last night's BET Awards were rearranged at the last minute to serve as a celebration of Michael Jackson's life. For the finale, Lil Wayne sang that he wishes he could "fuck every girl in the world" while onstage with pre-teens.


His song "Every Girl" was an odd choice to close the show that was more of a tribute to Michael Jackson than an awards ceremony. Everyone had MJ on the brain, whether it was in their acceptance speeches or conveyed in their outfits. (Host Jamie Foxx wore a succession of Michael's most famous costumes.) Artists like Ne-Yo and Ciara sang Michael's songs, and Beyoncé performed "Ave Maria" and Sarah McLachlan's "Angel" in memory of the King of Pop.
So it was weird that Lil Wayne—along with Drake and Young Money—didn't go the same route. However, it was more of an, "It's not right, but it's OK" kind of thing. Well, at least, it would've been, if he hadn't had a group of pre-teen girls dancing on stage. Take a look at the lyrics:
I like a long haired thick red bone
Open up her legs then filet Mignon that pussy
Ima get in and on that pussy
If she let me in Ima own that pussy
Gon' throw it back and bust it open like you posed' to
Girl I got that dope dick
Now come here let me dope you
You gon' be a dope fiend
Your friends should call you dopey
Tell em' keep my name out they mouth if they don't know me
Huh
But you can't call me tunecha
I'll fuck the whole group
Baby I'm a groupie
My sex game is stupid
My head is the dumbest
I promise
I should be hooked on phonics
haha

But anyway I think you're bionic
And I don't think you're beautiful
I think you're beyond it
And I just wanna get behind it
and watch you

(back it up and dump it back-
back it up and dump it back)

[CHORUS:]
Cause' we like her
And we like her too
And we like her
And we like her too
And we like her
And we like her too
And we like her
And she like us too

I wish I could fuck every girl in the world
I wish I could fuck every girl in the world
I wish I could fuck every girl in the world

[Drake:]
yea
alright
(ohh ohhh)
She be jumpin up and down
Tryna fit that ass in
Took her half an hour
Just to get that belt to fasten
All they want to talk about is partyin' and fashion
Every single night I have a dream that I am smashin
Them all
Young Money man this shit so timeless
And I'm in the mood to get faded so please bring your finest
And what are all your names again we drunk remind us
Are any y'all into girls like I am (lesbian)honest

She wants me she wants me
Cause' I got it all shawty tell me what you don't see
I will fuck with all y'all
All y'all are beautiful
I just cant pick one so you can never say I'm choosing hoes
And Wayne say pussy pussy pussy
And weed and alcohol seem to satisfy us all
Damn
And every time I think of staying with her
She bring that friend around that make a nigga reconsider man

CHORUS

[Jae Millz:]
I aint being disrespectful baby I'm just being Millz
And I don't know how fake feels so I gotta keep it real
I just wanna fuck every girl in the world
Every model every singer every actress every diva
Every high saddity chick every college girl every skeezer
Stripper and every desperate housewife that resemble eva
My role model was wilt
So married woman or milf
It don't matter who you is miss
You can get the business
Haaaa

[Gudda Gudda:]
These hoes is gods gift like Christmas
I like em caramel skin long hair thick ass
And I swear I'm feelin all y'all
I'm scrollin down my call log
And Ima call all y'all
My butter pecan Puerto Rican
She screamin out papi every time a nigga deep in
And I'm about to get my Bill Clinton on
And Hilary can Ride em' too boy I gets my pimpin on

[Mack Maine:]
And bitch Im Mack Maine -aine -aine -aine
Sanaa Lathan
Meagan Good
Angelina Jolie
Hah
D Woods
For free suites Id give Paris Hilton all-nighters
In about 3 years, holla at me Miley Cyrus
I don't discriminate, no not at all
The girls may have been family friends, or huge fans of his that he allowed on stage. I'm sure there was some kind of cognitive dissonance going on with that (there had to be!), but it was not exactly the best way to "celebrate" a man so closely associated with inappropriate relationships with children during the last two decades of his life.
But maybe Weezy was just robo tripping. That's his thing. It certainly seemed like that was the case at the opening of the show.

G/O Media may get a commission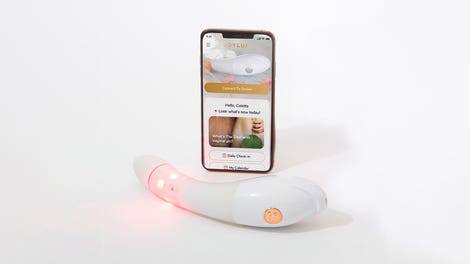 $50 Off
Joylux vFit Gold Device
Oh, and what's up with Jamie Foxx hating Tyra? His looked like he wanted to puke when she hugged him.



More baffling was Tyra's weave/wig. It was waxy and weird and totally uncharacteristic of her. I think somebody needs a MAKEOVERRRRRRRRR!!!!

Beyoncé was working some different looks. She had Dynasty-sized shoulder pads:

And, mid-performance, changed into a bridal outfit:

It looked like one of those food protection tents:

While her performance was a tribute to MJ, her shoes were a tribute to Stevie Wonder's hair.

Best jewelry of the night goes to T-Pain.

Worst comeback of the night goes to all of New Edition, but specifically, Bah-bay: