Towards the end of Bernie Sanders's presidential run, one of his main points of contention was the superdelegate system, which he believed was weighted in favor of Hillary Clinton at the hands of the DNC, specifically Chair Debbie Wasserman Schultz (D-FL). Always up for a good political fight, Sanders is now on the side of her opponent, Tim Canova, in Florida's Democratic primary this August.

Sanders spoke with USA Today about his plans to further the message and the momentum he built during his presidential campaign, including the Our Revolution political organization, which is specifically built to help the campaigns of progressive candidates. As the paper reports, Our Revolution will target candidates from both local and national campaigns, but one of its more prominent focuses includes Canova, a professor of law and public finance with a history of criticizing big banks:
"If we are successful, what it will mean is that the progressive message and the issues that I campaigned on will be increasingly spread throughout this country," Sanders said. "The goal here is to do what I think the Democratic establishment has not been very effective in doing. And that is at the grass-roots level, encourage people to get involved, give them the tools they need to win, help them financially."
Canova has been critical of the Federal Reserve since the 1980s, working as an aide to Democratic Senator Paul Tsongas and pointing out, as his bio notes, the dangers of subprime lending decades before the foreclosure crisis. He's also got a laundry list of supporting progressive views, some of which—like marijuana reform, for instance—Wasserman Schultz opposes or skews right on.
But as the Observer notes, Wasserman Schultz is supported by both Clinton and President Obama, and thus far has not agreed to debate Canova before the primary—despite, apparently, an opposition video and petition by the Canova campaign highlighting her refusals.
G/O Media may get a commission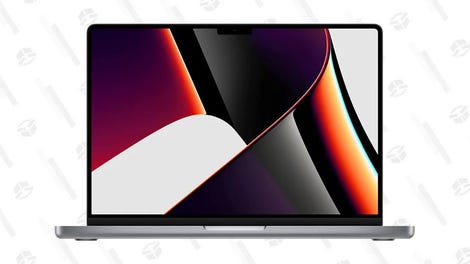 Save $300
2021 14" 1TB MacBook Pro
On Tuesday, the Miami New Times ran a piece about the Canova campaign that featured a quote from an anonymous Sanders staffer calling Canova's run "the proxy campaign." Wasserman Schultz did not participate in the piece or grant the New Times an interview, but it details both her many accomplishments and some of the grievances Democrats have had, both within and outside of the establishment. Canova decided to run, he told the New Times, last June, after Wasserman Schultz voted for the Trans Pacific Partnership.
This past January, Canova, with no formal plan or campaign staff, threw his name into the ring, loaning his campaign $15,000 — money he'd planned to use to buy a house. "My plan for day one," he says, "is to build a coalition to overturn Citizens United," a 2010 Supreme Court decision that removed limits on donations from corporations.

Canova virtually adopted Sanders' platform: He began talking about universal, state-sponsored health care and ending the War on Drugs.
The piece discusses how ire from the most ardent Bernie supporters was directed towards Wasserman Schultz, and that a Sanders-Canova link was natural—they'd known each other since at least 2011, when Senator Sanders asked him to work on a coalition to reform the Federal Reserve. With this momentum, Canova has raised over $2 million for his campaign, including donations from non-Floridian Bernie supporters. Yet, reports the New Times:
But Canova knows he's running against near-impossible odds: In the Democratic presidential primary, 72 percent of Broward County, which makes up most of Wasserman Schultz's district, voted for Hillary Clinton. In a proxy fight, where Clinton voters would presumably vote for Wasserman Schultz, those are dreadful prospects. "We've got an uphill battle," Canova admits.
Our Revolution, Bernie Sanders's political organization, is also the name of his forthcoming book—Our Revolution: A Future to Believe In—which will be published by St. Martin's Press on November 15.
---
Image via AP