The Bergdorf Goodman "Holiday Gifts" catalog is a shocking artifact. Because the "gifts" it offers range in price from $95 to $138,000. Are you ready to look at items that cost more than some people on this planet will ever make in a year? After the jump, an $18,000 makeup case, a $2,800 ballpoint pen and a $25,000 briefcase. Yay recession!
This is the first item offered: dark ganache-filled chocolates, priced at $275 for a box of 100. They're "finely decorated," though, so, you know, worth every penny.
Ah, Goyard. French for "that price is bananas." This canvas/leather/nickel "vanity trunk" comes with Lancôme products picked by Lancôme International Artistic Director Gucci Westman. It's 12 inches high and yours for the low, low price of $18,000. No, Ms. Westman doesn't come to your home to show you how to apply the makeup. Don't worry, you'll be fine.
G/O Media may get a commission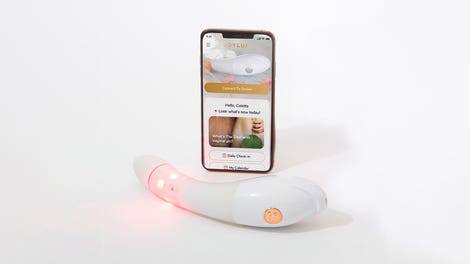 $50 Off
Joylux vFit Gold Device
Oh, add these to your Goyard trunk! Bobbi Brown limited edition brush colletion in a leather box, $650. That's right, makeup brushes that cost over $600 bucks. But wait! They have 24k gold accents and ebony handles. And did we mention the leather box?
Do people carry briefcases anymore? Alligator briefcases? This one has a personal lock and was made in Italy. Price? $25,000. Or you could buy a baby gator for $45 and teach it to carry your laptop. Just an idea.
You may find this necklace ugly, but it's handcrafted in 24k gold, oxidized "gilver" (which is a mix of gold and silver) and diamonds. Made in Turkey — where the per capita income is about $7,400 — this necklace has a retail price of $138,000. Still ugly.


A sterling silver Cartier fountain pen makes a lovely gift indeed, and you can pass it down to your children if you don't lose it under the bed, in the bottom of a bag or in a taxi. Fountain pen, $3,150; ballpoint pen, $2,800.
If none of these prices have shocked you so far, then you need a lovely silver crocodile wallet to hold whatever petty cash you carry around to tip service people. $1,495.
Cocktail rings are so hot right now! This one is "one of a kind" and handcrafted in 18k gold with tourmalines and rubelite garnets. Hurry, it might already be taken! $36,000.
Dear Diary, You are the least expensive item in the catalog. You are leather-bound and come with a lock and key closure. You're shown in red, but you also come in white, purple, turquoise and silver. You're pretty, but you're kind of empty inside. Seems like I have to do all the work in this relationship, and yet you cost $95. You make me wonder if my writing is even good enough to be ruining your lovely pages. You're giving me low self-esteem. This will be my only and final entry. Love, Me.