In late May, Ben Carson, our Secretary of Housing and Urban Development who thinks the Egyptian pyramids were giant silos, went on Sirius XM radio to discuss how Trump's plans to slash benefits like food stamps would actually help the poor. There he expressed the controversial idea that "poverty to a large extent is also a state of mind." He has since attempted to clarify what he meant.
In an interview with NPR this weekend, Carson said, "What I said is that it is a factor. A part of poverty can be the state of mind. Poor in spirit. And people tend to approach things differently, based on their frame of mind."
He continued:
"One of the things I think government can do very well is to help create the right kinds of mindset, frame of mind, by providing ladders of opportunity so that people can really see what's going on around them. A lot of times if you go to a disadvantaged neighborhood, you ask the kids, 'What do you want to do when you grow up?' You get about five different answers. But there's a thousand. We need to show people the other 995 and how you get there. And those are the kinds of things that create that can-do attitude that is so important, and that for such a long time was a part of the American mindset. And there are those now who want people to think that somebody else is in control of you and that you're a victim. We want to find ways to make sure that people understand that the person who has the most to do with what happens to you, is you."
Carson is scheduled to make an appearance before the House Appropriations Subcommittee on Thursday, where he will defend the Trump administration's proposal to cut about 14 percent of HUD's budget, about $6 billion that would otherwise go to public housing, housing vouchers, and community development block grants. Carson appears to believe that these cuts will wake the poor to their true potential. To NPR, he said:

Of course [state of mind is] just a component [but] it is an important component, how a person thinks. And I know there was a recent article that says, no, the state of mind is caused by poverty. I totally disagree with that. I think you can have a lot of people who are in poverty who are not adversely affected by that at all, who have a winning attitude and who will do whatever they need to do to be successful. And I would encourage people to go to the Horatio Alger Society website, and read those hundreds of biographies there of Americans who rose through incredible odds and severe poverty to become leaders in our society.
G/O Media may get a commission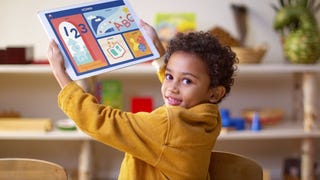 30-Day Free Trial
Homer Learn & Grow Program
Stay upbeat about having your SNAP benefits cut, and you can do anything! Carson does add that how you look at being crushingly poor is not the full extent of what creates poverty.
"What I said is that it is a factor," he explained. "A part of poverty can be the state of mind. Poor in spirit. And people tend to approach things differently, based on their frame of mind."
NPR reporter Pam Fessler presses him, asking, "But there are some people who you would say are poor, who might want to try but they can't get out for other reasons besides their state of mind?"
"Of course, there are people of all types," Carson agrees. "But our duty in government and in HUD is to provide the avenues, the mechanisms, to allow anyone who can get out to get out, and I think that's going to be most people."
Dive into Carson's baffling hypocrisy with the full interview here.