Can you believe our French beauty behemoth is already ten? Actually, yeah; it's hard to believe Sephora wasn't always around, letting the shameless amongst us doll up before events, gratis. I'm guessing most of the guests at last night's bday bash at NYC's Angel Orensanz Foundation - LiLo, Ashanti, Nicky Hilton, Natasha Bedingfield, and Charlotte Ronson, to name a few - can afford their own Stila. But money, as we all know, doesn't buy taste, and the delicious truth of this maxim is borne out, post perfumed jump.





















The Good:


Shoshanna Gruss wears clear colors beautifully. I also really like how well her designs accommodate breasts.


G/O Media may get a commission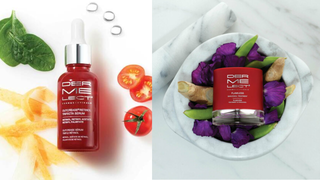 Save $19
Retinol Renewal Kit
I was seriously conflicted about the constellations on Lydia Hearst's breasts (whoa, sorry, I'm like Russ Meyer over here today), but overall, she looks lovely.


Loud, yes. But Ashanti's young and I think this is fun. Plus, the belt breaks it up and the shape's terrific.


Oh, gang, I wish there were a better shot of Natasha Bedingfield's outfit. There were enough partial views and shots with bits of the bodice in them that by careful deconstructive work I was able to determine that her dress is, in fact, very cute.



The Bad


Olivia Palermo: go to jail, go directly to jail. Your dress is covered in spangles, and topped with a lace-trimmed vest.


Full disclosure: I own more than one Charlotte Ronson garment. She looks absurd. Also, like an American Apparel mannequin. (And yes, I realize that's a redundancy.)


Can I express to you my boredom with the shrink-wrapped strapless minidress? Sure, Julie Henderson has the figure for it. But it's profoundly uninteresting without being classic. (Can you tell I'm just trying to avoid using the "I'm over it" construction? So arbitrary and dismissive, it is.)


Nicky Hilton might have gotten a pass on this Missoni-esque number if she hadn't gone and added an equally busy python platform.


I agree, Carmen Kass doesn't look terrible; she's probably incapable of it. But the more I look at this outfit, the more convinced I become that it involved a striking disharmony of proportion and approximately five busy details too many.


Can we put Dina Lohan in here on the basis of hair? My 8 Ball says it is decidedly so.




The Ugly:


I feel a little bad putting inker Kat Von D here, since this is basically just how she dresses. The fact that she wouldn't give a fuck is a palliative.
Images via Getty