The new Barneys New York catalog urges, "Have A Witty Holiday." Shopping the pages, you realize: You can't afford one.
For starters, those earrings on the cover are $19,600. They're not just earrings, see, they're 7.67 natural amoeba diamond slice earrings in 18K gold with colored diamonds. Plus, they possess the power to hypnotize!
This, friends, is a candle. A pretty candle, and yet: something you set fire to. $395. Are you feeling witty yet?
G/O Media may get a commission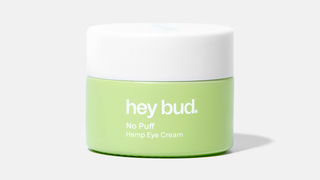 15% off
Hey Bud - No Puff Hemp Eye Cream
Rose gold chain with diamonds, $4900. Skinny jeans, $194. Hairdo that involves refereeing a cock fight: Priceless.
This Lacoste polo featuring a crocodile clusterfuck is a limited edition collaboration with Brazilian designers Humberto and Fernando Campanas and "reflects their commitment to creative chaos and triumphantly simple solutions." Witty! And $165.
"You can pretend to be serious; you cannot pretend to be witty." — Sascha Guitry
Honestly, I like the idea of peppering the catalog with witticisms, like this one, even though I had never heard of Sacha Guitry. I looked him up! He was a French actor, dramatist and director who wrote his first play at age 17. He wrote and directed and acted in Pasteur, a biography of the famous scientist; and there's something in his IMDb biography about how he lived a lavish lifestyle while the Germans occupied France in the '40s… He was jailed for a few months after the liberation of Paris. He was married five times, all to actresses who co-starred in either his plays or films. And! His name was apparently spelled Sacha, not Sascha.
But none of this is the point! The point is: That hair bauble, which would most certainly instantly fall out of my hair and through a sewer grate, is $1,990.
"Show me a sane man and I will cure him for you." — Carl Jung
"Show me someone willing to pay $2,900 for these earrings and I will show you someone rich and dumb." — Yours truly.
There's a Dorothy Parker quote on the lingerie page, where $125 gets you a strip of silk for romantic, light BDSM evenings.
Dammit, if I had $365 and poor eyesight, I would love a pair of Albert Maysles glasses. He directed Grey Gardens! He's avuncular! He rocks! And the Maysles Institute in Harlem is a nonprofit organization that provides training and apprenticeships to underprivileged individuals. And you can see movies there, too!
A "choosing between two evils" quote on page where both items are made of rabbit fur? Witty?
"If I were two-faced, would I be wearing this one?" —Abraham Lincoln.
New idea: LOLFoundingFathers.
Oh, hey, if this loose, body-disguising psuedo-homeless style looks familiar, it's because these garments are from The Row, aka Mary-Kate and Ashley's clothing line. $490 for the cardigan, $225 for the tank and $1,700 for the pants. That's $2,145 to look like you just rolled out of bed and threw on some laundry from your floordrobe.
Since alligators have been seen in the Mississippi River, a Mark Twain quote on this page is actually an inspired choice.
Barneys New York [Official Site]
Earlier: Ashro: Stop Being Such A Slob And Get Yourself A Suit, Hat & Wig
19 Crappy & Crazy Christmas Gifts From Sky Mall
Dean & Deluca Thanksgiving: Mouth-Watering, Wallet-Emptying
All previous catalog posts