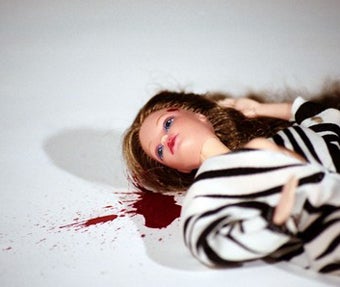 Several financial news outlets are discussing Mattel's falling first-quarter results, and most place the blame squarely on the slim shoulders of a certain doll named Barbie. Barbie, which was introduced in 1959, is now first-runner-up for the under-12 set, in part because of competition from edgier, increasingly-popular brands like Bratz and Hannah Montana dolls and in part because of the emergence of web-based toys. According to Portfolio, "Children want Web-based toys, and they want them at younger and younger ages" the magazine cites the success of interactive toys like Webkinz, and let's not forget the potential pleasures of Miss Bimbo). But the real reason Portfolio believes that Barbie is no longer the reigning beauty queen in toy world is because "at 49, Barbie is becoming obsolete."
Mattel is doing everything in its power to fight Barbie's increasing obsolescence. The Wall Street Journal reports that, in order to combat its "rare quarterly loss" — unlike last year, sales of Barbie flattened both inside and outside of the United States — Mattel is ramping up web-related offerings and is going to start charging a small subscription fee for its Barbie Girl website, which offers games, videos, chats and "digital extras". It's also experimenting with more interactive products — which aren't guaranteed successes. According to the Journal, "The recent Magic of the Rainbow, a fantasy doll marketed under the Barbie brand, doubled as a remote control, came with a CD-ROM game and featured wings that fluttered at the push of a button. 'Girls asked — is this a doll?' said [Chuck] Scothon [senior vice president of Mattel's girls division]. 'We put too much in.'"
[Image via Wilde Designs Etsy Shop]
Barbie: Where The Girls Aren't [Portfolio] As Barbie Sales Fall, Mattel Looks To Simplify Its Iconic Line [WSJ]
Earlier: New Game Encourages Young Girls To Embrace Their Inner "Bimbo"