Babs was so much fun on The View this week, with her Halloween costume, her vagina vs. vajayjay discussion and her robot dance, but we all know that you're not really a good time girl unless you get a little lezzie with your friends, which is what she did. Well, you know, not literally (although, that be a ratings boost for sweeps), but she kept talking about women whom she finds sexy. Meanwhile, Tyra did her damnedest to make women feel unsexy, by stuffing guests into unflattering nude suits and telling them to judge each other. Meanwhile, Oprah was too educational for the normal retardation of The Lady Bunch, as Dr. Oz and Suze Orman filled up three of the five hours of her show this week. After the jump, screen shots, fat slobs, and Ethan Hawke, oh my!
The View did a pre-taped Halloween episode on which they transformed the studio into the Cotton Club, and the panelists as well as the audience dressed all '20s. By the way she walked and the look on her face, didn't B. Dubs look more like a zombie than a showgirl?

Oh, and you know who else looked scary, albeit unintentionally? Ethan Hawke. The man is not aging well at all. And seriously, that stage has glowing, sophisticated lighting meant to flatter a 78-year-old woman, and he still look haggard...at 36!

G/O Media may get a commission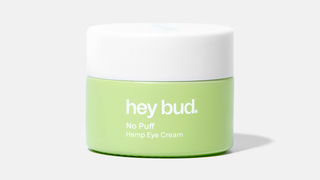 15% off
Hey Bud - No Puff Hemp Eye Cream
That has to be from smoking so heavily, right? He said that he's obsessed with his obituary because it's a "good way to make your decisions." I think he should be obsessed with it because it'll probs be published somewhere sooner than he thinks, by the looks of things, and when I say "things" I mean those crow's feet marching across his entire damn face.
Hmm...What else was scary last week? Oh yeah, duh. Her:

Yes, you, Tyra!
So there was that big, two-episode "Tyra's Bodyville" mess that was supposed to be an experiment on body image, but really was a lesson in how important social hierarchy among a group of women is when producing inane segments for a former-super model's vanity project.
The intention of the show was that people tend to judge a book by its cover...or the way it fills out a nude suit. In the second hour of the show, Tyra gave the women a bunch of job titles, and they were to assign them to each other, based on body image, although the girls didn't really follow those directions.

Check out the career options Tyra gave them:
Phone sex operator
Waitress
Maid
Flight Attendant
Janitor
Stripper
Bus Driver
Fast Food Worker
Actress
And then C.E.O is thrown in there to balance it all out.
I'm so glad she spent two hours last week on how horrible it is to stereotype women, only to...stereotype women.