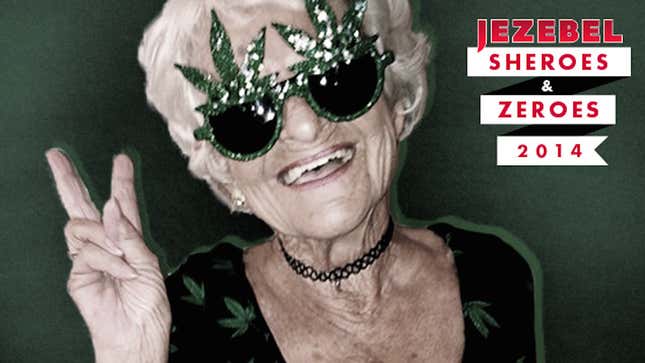 This is a series called Sheroes & Zeroes, about the people who defined our year in culture in both terrific and terrible ways.
Between sips of her afternoon peach schnapps and bouts of making snide comments about my latest hairstyle, my 74-year-old mother asked me: "Who is Baddie Winkle?"
I was shocked. Who is Baddie Winkle? The mere insinuation that someone—especially a person such as my mother, who occasionally glances at the Internet when her VHS copy of Dynasty Season 2 is rewinding—wouldn't know about this national treasure is shocking.
2014 will be known in history for more "important" social/historical/political things. But I guarantee you: when aliens take over our planet 40,000 years from now and root through our ancient archives, the only thing that is going be of any consequence to them is how an 86-year-old women stole our collective hearts.
Baddie Winkle is the pot-loving grandma who took over your Twitter this year (she has so far amassed more than 250,000 followers). She is the 86-year-old who's been stealing your man since 1928. She's the granny who shunned Metamucil for medical marijuana. She was the octogenarian who was "tip toe wing in her jawdins" while giving exactly zero fucks.
Case in point: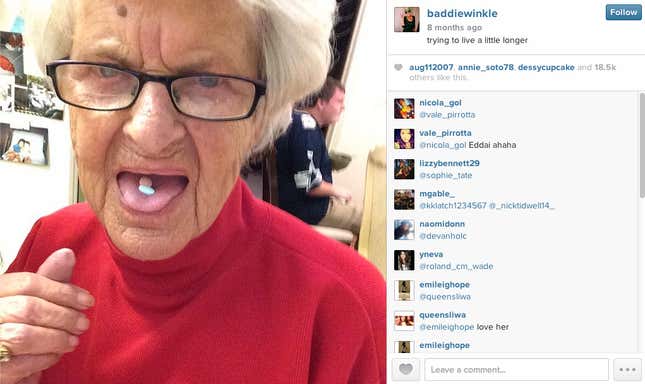 Baddie had one HELL of a year, becoming a legit fashion icon and managing to turn what might seem like a hokey joke on social media into a larger persona that she had more than enough charisma to carry. She even appeared on The Today Show, just like a hyped-up Tom Cruise.
In September, I had the distinct honor of interviewing Jezebel life coach Baddie Winkle. She hung up on me twice (accidentally, I think) and in the course of that interaction taught me the basic principles of life:
Don't give a damn fuck about anything. NOT A SINGLE FUCK SHALL BE GIVEN, EVER.
Wear the stupid-ass clothes young people wear, just to spite people who turn their nose up or whine about the stupid ass clothes young people wear.
Pray to the sweet Lord Jesus for all the basics.
Kiss the haters bye-bye as you drive off into your sunset of glory.
Love the one you're with. For real.
The world needs more Baddie Winkles. We've been raised with too many puritanical images of elderly spinsters who present old age as a time when you are forced to retreat into some miserable hellhole of solitude and regret, your faded dreams clinging to you like cheap support hose. Baddie Winkle reminds us that you don't have to be the grumpy asshole complaining that Twitter and Instagram are dumb and screaming at the kids to turn down their music. In 2014, she reminded us that getting old doesn't mean you turn into a fuddy duddy who condemns youth culture and yells at kids to get off her lawn. Instead, you can throw one badass party on your lawn, invite all the kids over and have a fucking blast.
When I was in high school, I read this perfect poem by Jenny Joseph:
When I am an old woman I shall wear purple
With a red hat that doesn't go, and doesn't suit me,
And I shall spend my pension
on brandy and summer gloves
And satin sandals,
and say we've no money for butter.
I shall sit down on the pavement when I am tired,
And gobble up samples in shops and press alarm bells,
And run my stick along the public railings,
And make up for the sobriety of my youth.
I shall go out in my slippers in the rain
And pick the flowers in other people's gardens,
And learn to spit.

You can wear terrible shirts and grow more fat,
And eat three pounds of sausages at a go,
Or only bread and pickle for a week,
And hoard pens and pencils and beer mats
and things in boxes.

But now we must have clothes that keep us dry,
And pay our rent and not swear in the street,
And set a good example for the children.
We will have friends to dinner and read the papers.

But maybe I ought to practise a little now?
So people who know me are not too shocked and surprised,
When suddenly I am old and start to wear purple!
Baddie is the living embodiment of that poem. She wears purple, in the form of her teen age granddaughters cutoff shorts, shirts that proclaim the glory of pot, she dances to rap and hip-hop songs and she jokes about smoking weed.
When I am old I am going to be exactly like Baddie Winkle. Haters beware.
Image via Tara Jacoby