Y: Bad Bunny ft. Drake, "MIA" – Your Latino lover and Jewish ex dropped a single to quench your thirst. Drake, a rapper that Benito has proudly claimed to stan ever since he was on the come up, is now a ft. (little f) on one of his songs—which bleeds red, white and Bad Bunny. Set in a quintessential Latinx barbacoa in what would appear to be any barrio in Latin America, but is actually Miami (same thing, pretty much), El Conejo Malo takes uncle Drake to play dominoes at his vecina's house (where every hot woman in the city seems to coincidentally be as well).

There are a few things I love about this automatic hit of a video and song. First, the lyrics are entirely in Spanish. This is yet again another example of artists being pushed out of their comfort zone by a new generation of talent that wants to bring the ~Latino Heat~ to an international platform. (Yes, I'm referencing Bad Bunny's shirt that I so desperately need). Secondly, Drake attempts to add some sazón to his dance moves for the culture. That, and the combination of the three buttons he casually leaves open to expose his hairy chest and Jesus piece, are a hilarious yet satisfying vision.
This collaboration is just another example of the width and reach of young Benito's talent, who has yet to release an album of his own, but consistently tops the charts and stays true to his brand and sound. Known to direct his videos and write his own lyrics in the past, I get the feeling this one is no exception—with Puerto Rico pride bleeding through, and lyrics like "yo soy tu Romeo pero no santo," that have Twitter losing its cool.
Congrats to Drake on getting invited to la mesa de dominó, and to Bad Bunny on expanding his influence. A win-win. And last, but not least, congrats to the woman who this song references. Despite optics, this song is about one gal. The title translates as "MINE," and includes lyrics like "Many want me since I started singing, but I'm only yours." If you haven't had this on replay, here's the video to make this fall weekend feel a tad more like summer. —Ecleen Luzmila Caraballo 
---
Aaaaabsolutely not: Charli XCX & Troye Sivan, "1999" (video) – In a 2014 interview with The New York Times, André 3000 said that "sometimes nostalgia is a cage." After nearly a decade of mind-numbing, "Remember When??" listicles cluttering our feeds, it's hard to argue with him! That said, I don't hate Charli XCX and Troye Sivan's new "1999" video because it's fueled by nostalgia. I hate it because it's poorly made.
G/O Media may get a commission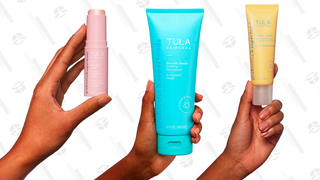 I mean, it's a three and a half minute montage of retro visual references, but most of those references aren't even from 1999. Titanic came out in 1997, the Spice Girls' "Say You'll Be There" video in 1996, Eminem's "The Real Slim Shady" video in 2000, the Nokia 3310 in 2000, the iMac G3 in 1998, and The Sims in 2000. Rose McGowan and Marilyn Manson's infamous VMA red carpet appearance didn't take place until 1998, and the "dancing baby" animation was made in 1996. Even its Ally McBeal cameo didn't happen in 1999! That was 1998! '98!!!! And TLC's "Waterfalls" video? That was 1995! What the hell?! "No Scrubs" was right there???? I guess Charli and Troye are showing their age in that respect; she was seven when the "No Scrubs" video came out in 1999, and he was only four.
It's possible that this non-specific nostalgia pastiche is intentional, some kind of meta statement on how empty and soulless nostalgia really is—how you don't really miss the things you say you miss, you miss that which you've rendered comforting and familiar through the act of processing your memories and building narratives to understand yourself and your place in the world, regardless of how true they are. I said possible, not probable! —Harron Walker
What she said. —Ashley Reese
---
Y: QUISOL ft. Luke Martinez, "The Cards" (video) – Released last Monday for Indigenous People's Day, QUISOL's Luke Martinez collaboration "The Cards" is unassuming as it builds, swallowing you up with its rich, layered sound until you almost forget what you were doing before you hit play. QUISOL, a.k.a., 23-year-old Joseph Quisol of Oakland by way of Charlotte and Sacramento, tells Jezebel that "the song is about revolution, love, and freedom," mixing down-tempo reggaeton beats and light-as-air guitar melodies to craft a sound he's dubbed "Latinx Future" in past interviews.
The video, directed by QUISOL and Erica Femino, expands on those decolonial themes of longing and care, both present and future, placing familiar spiritual imagery and the video's four stars in seemingly endless black and white rooms that suggest another plane. "My family roots are in Puerto Rico and the Philippines, but I grew up in Charlotte, North Carolina," QUISOL tells Jezebel. "Migration and mixed identity are a big part of my life, so this video honors all of these layers of identity." The track is the first single off of his debut album, coming next March. If you can't wait that long to hear more of his work, head on over to Spotify to check out his debut EP, The World Keeps Turning, which dropped earlier this year. —HW
---
---
Y: Alejandra Guzman, "Soy Asi" – I honestly haven't thought of Guzman in a long time, and am happy to see her continuing to pen her own story, or perhaps make a comeback in preparation for her time on La Voz. In the 90s and early 2000s, she became a rock legend—winning a Latin Grammy for Best Rock Solo Album and leading the way for a new women-led breed of rock stars—alongside Gloria Trevi. Both were cut from the same thread, Guzman being the less controversial figure of the two. In this new song, she echoes the same sentiments she's screamed her entire career saying "I am who I am...You know I'm everything but fake." Ok pues. —ELC
---
N: Kat DeLuna and Arcangel, "Nueva Actitud" – Translated as "new attitude." I had high hopes for this song because of the concept of reinvention and confidence that it's built on. But, it's lacking lyrically and is a long brag about all the money they claim to have—hence the newly-found confidence. Arcangel's bit is a nice touch because his voice is somehow both annoying and pleasing to the ear, but this isn't one I'll be coming back to. —ELC
---
Y: Sasami Ashworth, "Not The Time" – The second single from the indie rock singer-songwriter Sasami Ashworth sounds nothing like her first—at least not until you've listened to it a few times. "Callous" released earlier this year, is haunting and spell-binding, the way the vocals wrap around each other and loop over and over on the chorus, telling a story of a bitter loss. But "Not The Time" is bright and sprightly, despite, perhaps, similar subject matter. These are breakup songs through and through. What's refreshing is Ashworth's unwavering sense of self, how it feels like she can see through the subjects of her songwriting with X-ray vision. It's an elegant feat from a promising young artist. —Frida Garza
---
Absolutely yes: Girlpool, "Lucy's" - Girlpool, one of the greatest modern day indie rock bands, surprised dropped two tracks this week—the distortion-heavy "Where You Sink" and my personal favorite of the pair, "Lucy's." Singer Cleo Tucker's voice has significantly deepened since beginning hormone replacement therapy last year, and the result is a creamy depth—their performance has never felt so full. I'd liken it to '90s greats Polvo, but it's somehow more intoxicating than anything in the band's repertoire. I can only hope they choose to sing lead more in the future. —Maria Sherman

---
I think the fuck not: Shawn Mendes, "Under Pressure" - The one Shawn Mendes song that I've never really minded is the one they play at the grocery store a lot, that goes "something something intuition BABY THERE'S NOTHING HOLDING ME BACK SOMETHING ETC." That song is fine. This song is not. Thanks! - Megan Reynolds