My sister found a bunch of old issues of InFashion magazine, a very "hip" publication we both read in the early '90s. Inside? Tyra Banks, Marcus Schenkenberg, Vanessa Paradis, Gary Dourdan, and terrible fashion:
This cover is from Fall 1992. John Corbett was "that guy from Northern Exposure" and Sex And The City had yet to be unleashed on the American public. The woman he's posing with is MTV VJ Duff. It seems he'd love to just tilt his head and knock her right off the cover.
Ladies and gentlemen: Kristy Swanson, star of a little film called Buffy The Vampire Slayer. She's mad for plaid! Fall 1992.
G/O Media may get a commission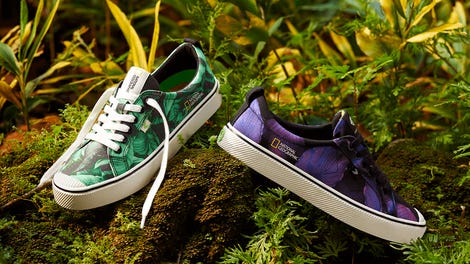 New New New
Cariuma + National Geographic
Did women actually wear quilted vests and tapered pants tucked into boots? This woman did. Fall 1992.
Who could possibly look at a jean jacket and think, "what this thing needs is a see-through panel" ? Fall 1992.
Where are these people now? Winter 1993.
The only thing more frightening than her eye makeup is that platformed and chunky-heeled boot. Not that I didn't covet it, at the time. Let's not talk about the hair. Winter 1993.
Please note the frayed pants hem and Colonial Williamsburg shoes. Did people actually get laid in the '90s? Winter 1993.
A threesome you don't want to watch. And where is her hand? Winter 1993.
Her hideous vest was $82, which has got to be almost $200 in 2009 dollars, right? Anyway. If you lean in, you can hear Arrested Development playing in the background. Winter 1993.
Gah. What's funnier — the hats, the hair, or the sucked-in-cheeks this model is throwing at the camera? Winter 1993.
I would like to pretend I didn't wear something like this to see the Chili Peppers and Ice Cube at Lollapalooza but I can't. The shame is crippling. Winter 1993.
Jeremy spoke in class today. Winter 1993.
Would you look at Ms. Tyra Banks? Getting all close and personal with the dude who sang "I Hate Everything About You? Her eyebrows are… severe. Spring 1995.
The spread says "Café Au Lait," but the message? Black coffee is strong. By the by: This model, credited as "Wale," is Adewale Akinnuoye-Agbaje, also known as Adebisi from Oz or Mr. Eko from Lost. Spring 1995.
No thanks! Spring 1995.
Look closely and you'll see CSI's Gary Dourdan jumbled in this pretty pile-up. Also: Yay, diversity! Spring 1995.
Big toothbrush, little skirt. Are we raving now? Spring 1995.
Oh, dear: The inevitable rollerblading story. "The blading scene is largely about being seen," reads the copy. Spring 1995.
Nuno Bettencourt, on the left, was in Extreme, the band caused "More Than Words" to be on the airwaves. Incessantly. The lady to his right is then-19-year-old Vanessa Paradis, who was releasing an album produced by Lenny Kravitz. Johnny Depp: No where to be found. Winter 1992.
In the interview accompanying these shots of Marky Mark, he uses the word "dope" over and over again. "I think of myself as a very flavorsome rapper. I'm versatile and that's what I think makes my style so dope," he says. "I did a dope rap on voting for MTV. I just started getting hip on voting." Winter 1992.
This actually feels rather current. Could be My Chemical Romance or whatever, no? Winter 1992.
Male supermodel, Marcus Schenkenberg, gives his best "blue steel." Winter 1992.