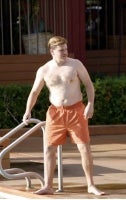 We've combed through our trove of Snap Judgments and selected the most viewed celebrity pictures of 2008. Travel back to a time when you cared about Ali Lohan, Brooke Hogan and Angelina Jolie's pregnant womb.


10. Hulk Hogan Having Trouble Telling Girlfriend From Daughter




9. Angelina Jolie Got A Big Ol' Bump




8. Dear Ali Lohan, Please Try To Stay Just Like This—Thanks




7. Natalie Portman Steps Out With Beefcake; Wellingtons




6. Monica Lewsinsky May Be An Angeleno Now, But She Doesn't Dress Like One




5. Clive Owen, Shirtless, In Rome. Please File Under "Dream Come True"




4. Lindsay Lohan's Leggings & Liger




3. Angelina Jolie Keeps The Kids In Line With Processed Foods




2. Courtney Love Has Us Concerned




1. We Are Definitely Not Fucking Matt Damon