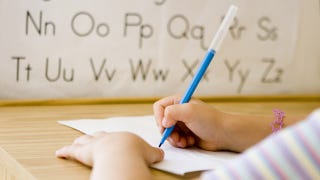 Here's a tale that will make you think maybe home schooling wouldn't be so terrible after all: A fifth-grade teacher in Queens, New York is in trouble for having her students write holiday cards to her boyfriend—who happens to be in prison and has a record of being into kiddie porn.
Melissa Dean undertook this special project this past Christmas without the permission of the school or the parents, obviously. She told the 10-year-old kids they were sending cards to spread holiday cheer to people who were sick or lonely. Instead, she mailed them to her boyfriend, John Coccarelli, who is an inmate at a high-security prison near Rochester. He was convicted of gun possession and violating a protection order against his ex-wife, but he was also busted with "dozens of sexually explicit images of young kids" on his computer. Though charges for that were dropped as part of a plea deal.
That makes it even more disturbing that Dean told her students to put their names and addresses on the envelopes if they wanted a reply. At least two of the kids did—because who doesn't want a pen pal at that age? Fortunately, an alert staffer at the prison intercepted the 25 cards, so the children are in no danger. What is in danger, thank God, is Dean's job. An investigation has been done, and it's been recommended that she be fired. That should leave her plenty of free time to write letters to her boyfriend all by herself.
Teacher had 10-yr.-olds mail jailbird beau [New York Post]
Image via igor kisselev/Shutterstock.