Screw "the best" and "the top." You know all about Obama and Vampire Weekend: this list is totally arbitrary and most of the stuff isn't even from 2008. But none the less awesome for that!
Black Narcissus - How did I live 27 years without having seen Black Narcissus, one of the weirdest, most awesome things I've ever experienced? Shamelessly unconvincing casting aside (Jean Simmons may be many things; South Asian is not one of them) I have never enjoyed every trippy, compelling, overwraught moment of a movie more.


Nature Valley Fruit Bars: Cheap and delicious! These have totally changed my way of doing business.


Song: "Rut And Nuzzle"
Artist: Snowblink
Album: Long Live. Just an unbelievably beautiful song for happy and melancholy moments. Bonus: actually from this year.



Carrying a Pocket Knife: It took me a while to get into this. But since I started, I have cut a crazy amount of branches and flowers from local parks, several of which I'm currently forcing.



Meals on Wheels phone call program: If you don't have the time or the means to do the Meals on Wheels friendly visiting program, this is a terrific way to provide some companionship: just a 20-minute phone call per week, at a scheduled time, to a homebound elderly person. NB: make sure you're in a good bar zone.



Gothic Romance: I am always on the lookout for new weirdness, so how had an entire genre of pulp fiction escaped my notice? Gothic romances - all the ones I've found are from the 60s - seem to be uniformly cockamamie, featuring implausible love interests and Scooby-Doo levels of suspense. Lately it's been hard to read anything else.


Song: Coming Up
Artist: Paul McCartney
Album: McCartney II. This is such a jam it's insane. I'm sure Pitchfork could liken it to 12 or so other things and then disparage it; it just makes me happy.


Using an old doorknob to weight a cookbook. This works really well; it's the closest I've ever gotten to ingenuity.





G/O Media may get a commission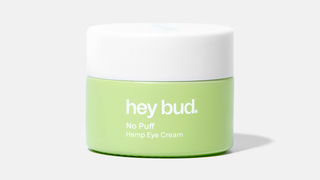 15% off
Hey Bud - No Puff Hemp Eye Cream

Words In Air: The Complete Correspondence Between Elizabeth Bishop and Robert Lowell. Even if you don't love letters or poetry, this is like a master class in writing, living, history, neuroses, small pleasures, literary friendship, what have you. It's truly a pleasurable read and I'm not just saying so.


Song:Banjoreno
Artist: Dixieland Jug Blowers
Album: Ruckus Juice & Chittlins Vol. 1. This is so much more haunting and stirring than you could possibly guess from anything about it.



The jewelry of Alexander Calder: there was a show of Calder's jewelry at the Met this year, and not only were the pieces completely sculptural and amazing and unwearable save for the pro eccentric, but the entire experience just made one want to be a mid-century bohemian living with a man who'd weld you up a unique gift at the drop of a hat.



Mixing Top Ramen with Soy Sauce and Peanut Butter: thank you, commenters, for this life-altering suggestion.


Song: Kurima
Artist: Chiwoniso
Album: Rebel Woman
Chiwoniso is a remarkable Zimbabwean singer; a friend put this on a mix for me and it's superb early-morning music. I mean, it's good generally, but good for starting the day in a hopeful frame of mind.



The Nutshell Studies of Unexplained Death. Here's Wikipedia:
Intricately designed dollhouse-style dioramas created by Frances Glessner Lee, a millionaire heiress with an interest in forensic science.She designed detailed - almost obsessive - scenarios, based on composites of real criminal acts, and presented them physically in miniature. Students were instructed to study the scene and draw conclusions from the evidence presented. Lee used her inheritance to set up Harvard's department of legal medicine, and donated the Nutshell dioramas in 1945 for use in her lectures on the subject of crime scene investigation. In 1966 the department was dissolved, and the dioramas went to the Maryland Medical Examiner's Office; there, Harvard Magazine reports that they are still used for forensic seminars.
The book is amazing.





Edna Lewis' coffee:Edna Lewis, the iconic southern cooking writer who grew up in a town founded by freed slaves (her grandparents were founders), is infallible. I started making her kind of coffee when my French Press broke, and it's not only delicious, but super-useful for those rare occasions when one has a lot of coffee but no apparati. NB: I just use one kind of cafe, and Bustela at that, with no ill effects.
1⁄2 lb. Colombian coffee, ground
1⁄2 lb. Java coffee, ground
1⁄4 lb. French roast coffee, ground
Few grains of salt
1. Blend Colombian, Java, and French roast coffees. Put 5 level tbsp. ground coffee, a few grains of salt, and 3 3⁄4 cups water into a medium pot and bring to a boil. Turn the burner down and simmer for 12–13 minutes, or longer if a stronger brew is desired.
2. Add 1 cup ice-cold water and remove pot from burner. Let rest a minute, then pour coffee into a coffeepot and serve while piping hot.

Retro Swimsuits by Elizabeth O'Brien Berg: I am always on the lookout for a nifty old-fashioned suit, so muck kinder and more glamorous all around. This line, by Elizabeth O' Brien Berg, are the neatest I've ever seen. Not cheap, but if, like me, you get a suit once a decade, well worth looking into.


Karen Dalton: A friend turned me on to Karen Dalton with It's So Hard to Tell Who's Going to Love You the Best. Her voice is indescribable (okay, it's kind of like a hippie Billie Holliday from Oklahoma), highly atmospheric, with the depth of expression that only deep self-destruction can sing.