Dolce & Gabbana's Spring/Summer 2015 collection was inspired by bullfighters, a glamorous and intricate take on the legends and traditions of Spain. And while their classic Euro fantasies have resulted in some extremely racist impulses in the past few years (that, too, is part of Olde Europe), this hyper-romanticized depiction of classic Spanish culture—flamenco! bullfighters! abuelas!—is pretty fantastic.
In the ad spot above, models Bianca Balti, Vittoria Ceretti, Irina Sharipova and Blanca Padilla flank real-life superstar toreador José Maria Manzanares, an unnamed pro flamenco dancer, and a coterie of (also unnamed :( ) older women showing the models how a Spanish dance party is done. The flamenco guitar soundtrack is peppered with faint, crackled vocals—my favorite part of flamenco, a little reminiscent of this thing of beauty—the older a flamenco singer, the better her voice sounds. It's a beautiful spot that I could watch on repeat as I lust after these looks I cannot afford. The best part, though, is this ad, featuring the unnamed grandmothers (wearing the lovely crown J.Lo had on in her Latina shoot), and who I hope got paid a fortune:
Fashion people often say they are in the business of selling fantasy, and D&G does that really well in this campaign, cherry-picking elements of España that are resonant among people who know not a na'an about the culture there, and blowing them out in gorgeous hypercolor. Dramatic fans in flamenco stance, a perfect princess in a bustier festooned with a milagro of the flaming heart of Jesús, a seductive toreador tantalizing beautiful women with his insane posture and body of perfection. Could they get anymore textbook fantastical here? The only thing missing is a giant ham hock hanging from the doorway. They should probably give this thing a plot and have Almódovar direct it.
G/O Media may get a commission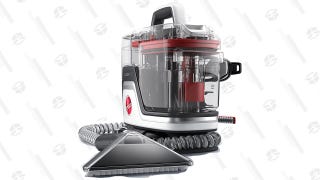 Save $10
Hoover CleanSlate Plus Carpet & Upholstery Cleaner
More milagros here, on lace miniskirts in traditional black and Spanish rioja because we are pulling for the most broadstroke interpretation of romance possible. What does Diane Pernet think?
More of these lovely abuelitas (D&G refers to them as grandmothers, not just assuming cause they're older), carrying—D&G dolls? I don't even know, I'm too distracted by guitar guy in the back, hi boo.
This campaign was shot by Domenico Dolce himself, and is meant to invoke the connection between Spain and Sicily on some Mediterranean solidarity ish. The grandmothers are supposed to signify "the respect and love the Mediterranean cultures harbour towards the older generation," which is awesome, but also I'm like how you gonna love and respect these women and not give them credits in the photos?! ANYWAY. Who wants to go to Barcelona with me now? My Catalan is not great but I can at least find the beach.
Images via Dolce & Gabbana.