For most of us who are in the "prime" of our lives, working full-time seems like a chore we can't wait to someday escape. But not for the incredibly inspiring Hedda Bolgar, who at 102-year-old still works four days a week as a therapist and loves every minute of it. Well, okay, she probably gets annoyed by her patients sometimes like any shrink does, but on the whole she seems very happy.
She's had a long and very successful career centered around helping people in need, and she continues to be quite busy attending to all the causes that are important to her. So what's Bolgar's secret? She believes "there's dignity and purpose in work, and grace in aging." It all seems to come from the way she was raised.
"What I grew up with was, if there's an unmet need in the world, you try to meet it, and if there's a problem, you try to solve it."
That's pretty good motivation, and we could all learn something from her. Except she admits not everyone is ready to pick up what she's laying down. She describes one of her clients who is in his mid-80s: "He wakes up in the morning and all he wants to do is die or go back to sleep." (Sound familiar??) As a cure, Bolgar has instructed him to some something useful "like reading to the blind or helping out at a school." He isn't buying it—he thinks Bolgar has some trick she's not sharing. "He wants the magic. I tell him there is no magic and he cannot accept it. He can not accept that he's old."
Easier said than done, perhaps, but Bolgar whole-heartedly embraces her age. She isn't scared of death, but it may not be coming for her anytime soon, because, she says, "I'm too busy to die." Yeah, girl! It's enough to make you rethink your retirement plans.
G/O Media may get a commission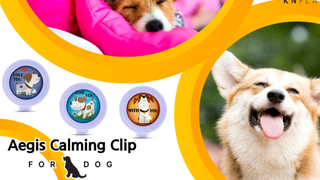 20% off
Aegis Calming Clip for Dogs
At 102, Therapist Is Too Busy To Stop Working [Los Angeles Times]