Please welcome Amy Sohn, author of the new book The Actress!
Throughout her career, Sohn has perhaps been best known for breaking down subcultures within New York City, from writing about the secret lives of Park Slope moms to penning the wedding announcement of Gawker Media's own founder. But her latest project is situated (more or less) outside of New York. A blurb of the book, which has been labeled by many as a fictionalized mash-up of the lives of Tom Cruise and George Clooney, follows:
When Hollywood heartthrob Steven Weller pulls Maddy Freed out of obscurity for a starring part in his newest, Oscar-worthy film, she feels her career roaring onto the express track. Steven's professional attention soon turns personal as they are thrown together amid Europe's Old World charm, and Maddy allows herself to tumble headlong into a fairytale romance with the world's most eligible bachelor. She knows there's no truth to the gay rumors that have followed him for years.

Yet what is it that Steven sees in Maddy that he has not seen in his string of past girlfriends? Steven tells her he is drawn to her stunning gift as an actress—her ability to inhabit a character so seamlessly, so convincingly, that it is nearly impossible to tell she is playing a role—a compliment that becomes more ominous as their marriage progresses. Ultimately, as Maddy's own happiness and success grow intertwined with her new husband's, she cannot afford to ask too many questions about Steven's complicated past. But can she ignore her inner voice, and her instincts about her own worth?
The Actress explores the fluidity of sexuality, the straightness that society demands and the importance of identity, all against the heightened backdrop of Hollywood. From the beginning, when Maddy first sees Steven standing with his agent and his current girlfriend at a Sundance-esque party, they have a strange connection, though it's hard to tell how much of it is acting and how much is real:
It occurred to Maddy that Bridget Ostrow probably knew things about Steven Weller that no one else did, even Cady Pearce. Over the years she must have seen his insecurity, fear, anger, everything a celebrity had to hide from the world. A manager couldn't yell at her star client or act jealous when he got all the attention. She couldn't cross him (or let him find out if she did), and when she disagreed, she had to do so gently, respectfully. Maddy wasn't sure which one had the real power – Weller, with his fame, or Bridget, who had made the fame possible.

...

She sighed and lowered her chin. Her gaze fell on the group huddled around Steven Weller. Everyone was zeroed in on him, but he was staring, unblinkingly, at her.
So hit Amy with questions – about this book (or her past writing), Hollywood, gossip, sexuality – she's ready!
Amy has logged off. We thank her — and all of you! — for participating.
Images via Simon and Schuster/Piotr Redlinski
G/O Media may get a commission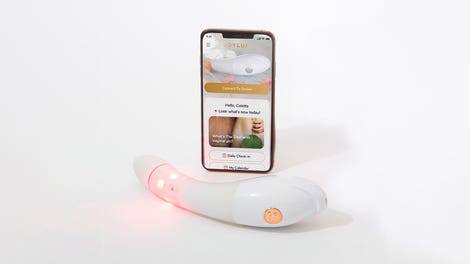 $50 Off
Joylux vFit Gold Device