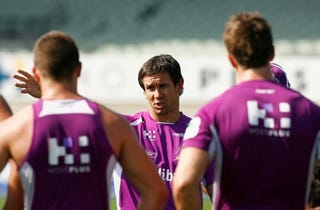 Last week, the media was awash with stories about the so-called "group sex" incident among Aussie rugby players. The scandal has prompted some classic victim-blaming, a good deal of denial, and maybe even some change.
To recap: Last Monday night, the Australian Broadcasting Corporation aired a special segment of their Four Corners television show titled "Code of Silence." The show focused on allegations of sexual abuse brought against rugby players and the dangerous culture of group sex that the sport seems to promote. One victim, codenamed "Clare," claimed that in 2002, she agreed to have sex with two players from the Cronulla Sharks in a hotel room. While she was with Matthew Johns and Brett Firman in their hotel room, about ten other players climbed in through the window and began to join in. In her interview with ABC reporter Sarah Ferguson, Clare made it clear that she only gave her consent to Matthew Johns and Brett Firman. Four men proceeded to rape Clare, while the six other players watched and masturbated, but she was unable to scream or fight back; "I thought I was worthless, and I thought I was nothing. I think I was in shock. I didn't scream," she said.
As we mentioned last week, Clare's ordeal has been grossly misrepresented by the media, which has taken to calling her claim of rape "allegations of group sex." The fallout from the Four Corners interview has not stopped there. Several of Clare's former coworkers have come forward to call her a liar, and accuse her of "gloating" about the incident (she has also been accused of boasting about a three-way she had with several other rugby players the night before the "group sex" with Johns and Firman). As the Daily Telegraph reports, hotel owner John Butterfield said that Clare is no longer welcome at the hotel, although the Sharks are "a great bunch of guys," who can stay anytime. "She told a whole bunch of lies," he said, "It's buggered Matthew Johns' whole life."
Keith Burgess, the women's manager at the hotel where Clare worked, says he was surprised to hear Clare's story, and he feels sympathy for the rugby players and their families. "It must be one hell of a time for them," he said. He goes on to say that Clare was a good employee, and the last person you'd ever expect to be involved in this type of thing." In contrast to Butterfield, he recalls Clare as "a decent, stable type with her head screwed on."
The identities of the other players involved in the possible rape remain unknown, and Preston Campbell, who was on tour with the Cronulla Sharks in 2002, would like to keep it that way. He said he can see no reason for the other men involved to come forward, the Independent reports. "I don't think it is going to help the matter at all," Campbell told reporters on Friday.
However, several players have admitted that they were present on the night of the rape, although so far none of them have confessed to having sex (consensual or not) with Clare. Former Sharks player Daniel Ninness said he went home with Clare after his teammates had finished with her, but he maintains that he did not have sex with her at any point during the night. Current Sharks captain Paul Gallen also admits to being present on the night of the rape, but he claims he only entered the room after it was all over.
While most of the players are staying quiet about the "group sex"/rape scandal, rugby league commenter Phil Gould has gone on air to cry about Johns public ordeal. He said that Johns and his wife are both "shattered" over the incident, and he fears for Johns safety. He hopes that the "group sex scandal" will be the "final sledgehammer" that will wake up rugby players involved in potentially scandalous behavior:
"Our players have got to understand it doesn't matter if you think you are in the right," he said.

"It doesn't matter if you think you have the green light, if it is perceived that it is OK to go across with this stuff it's going to end in dramas - somewhere sometime it will come back to bite you on the arse and we're all going to pay the penalty for it."
Like NRL boss David Gallop, who advised a ban on group sex, Gould seems to be suggesting that the only way to avoid accusations of rape (or, as he more obnoxiously terms it, "dramas") is to avoid engaging in "pack sex," even when everyone involved has given their consent.
While it seems unreasonable to regulate the private sex lives of players, those who study the phenomenon of sports-related group sex say that the "male bonding activity" is only a small part of the male-centric culture of rugby. In an article on the mentality behind group sex, the Daily Telegraph quotes Clifton Evers, a researcher studying the changing attitudes about sexual violence in the NRL:
``This is where mateship can get really ugly, where it's about being a mate to bloke-friends, rather than being a mate to the woman in the situation,'' Evers says.

"It becomes about looking after your mates, wanting to belong with your mates. That means women are sexual objects, by and large. If you grow up in a very male-centric culture such as rugby league, then you come across the opinions and ideas of women less. That fosters an understanding of relationships that privilege the male over the female.''
In "group sex", the woman becomes the "something" through which men can channel their physical bonding. Karen Willis, manager of the NSW Rape Crisis Center, also believes that "group sex", consensual or not, can often be termed "unethical sex." She writes,
It may not have been criminal sexual assault, but there is no doubt what happened in that Christchurch hotel room was utterly unethical.
She goes on to argue that sports players need to be better educated about what constitutes consent. Consent is not simply what you think is "OK," it is the freely voiced desire to engage in certain sexual acts. Willis makes it clear that even though Johns and his teammates may have believed Clare was willing, simply because she did not scream, consent is much more than silent acceptance of the event.
Although Clare's life will never be the same, her story has set into motion a discussion about the ethics of sex that may ultimately change the way rugby players are taught to view women. The NRL has taken several steps to reduce the rates of sexual assault among their players, including inviting rape crisis counselors (including Willis) to speak at rugby camps. The NSW Government has also recently launched a new website designed to provide information about sexual assault, support and counseling services, and how to report a crime to the police. Clare may still be forced to read offensive headlines calling her the "Matthew Johns sex girl," but thanks to her willingness to tell her story, other women may not have to suffer the same fate.
Matthew Johns Sex Girl 'Clare's' New Life With Footballer [Daily Telegraph]
No Need For Other Sharks To Go Public Over Sex Scandal [Independent]
Former Sharks Player Daniel Ninness Admits Role In Matthew Johns Group Sex Incident [News.com.au]
Paul Gould Tells Of Fears For Matthew Johns On Footy Show [News.com.au]
After Matthew Johns Affair, Why Sports Stars Like Group Sex [Daily Telegraph]
Ethical Men Must Fight For Change [Sydney Morning Herald]
NSW Government Launches Website For Sex Assault Victims [News.com.au]
Earlier: Australia Abuzz Over Rugby League "Group Sex" Scandal