Are you ready for the greatest saga out of Australia since The Thorn Birds? Well, here it is: A rapper who goes by the name of "2pec" allegedly tried to dine and dash on several hundred dollars' worth of seafood by walking into the ocean, but was pursued and finally arrested via jet ski.

Australia's ABC News reports:
An aspiring rapper gorged himself on seafood and alcohol at a Gold Coast restaurant and then fled into the surf without paying his $621 bill, a Queensland court has heard.

Terry Peck, 33, allegedly devoured two lobsters, 17 oyster shooters, a baby octopus, and several beers at Main Beach's Omeros Bros Restaurant before making his getaway.

The staff from Main Beach restaurant took off in hot pursuit.

Peck, who goes by the name 2pec, ran onto the beach and into the surf, and efforts to cajole him back to shore were unsuccessful.

Two police jumped on a lifeguard's jet ski and arrested him in the ocean.
"Oh God! By himself?" exclaimed the magistrate in whose court Peck landed, at the alleged figure of $621 Australian dollars, roughly $465 in American currency. But "two whole lobsters, six oysters, four Coronas and a baby octopus," plus "21 oyster shooters, a vodka cocktail similar to a bloody mary," as per News.com.au, wouldn't be cheap, now would they? Especially not from Omeros Bros Restaurant, whose website proudly declares they made TripAdvisor's list of top ten Australian fine dining experiences. Peck countered that the lobster mornays were "overcooked"—a claim that the restaurant specifically denies—and "There was oyster shell in the oyster [shot] and he said he was going to take off the bill."
Also, "Peck said he had only left the restaurant to help a friend who was he said was giving birth on the beach," added ABC News in an absolutely incredible display of straight-faced, bone-dry news reporting. "He said he was arrested before finding her."
Fortunately, BuzzFeed has found some of 2pec's work, which I will share with you now.
G/O Media may get a commission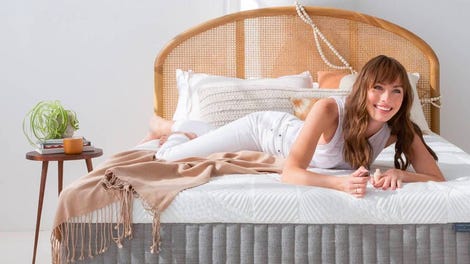 Sleep Sale
Sleep Sale - Brentwood Home
Do you think Iggy Azalea knows him?