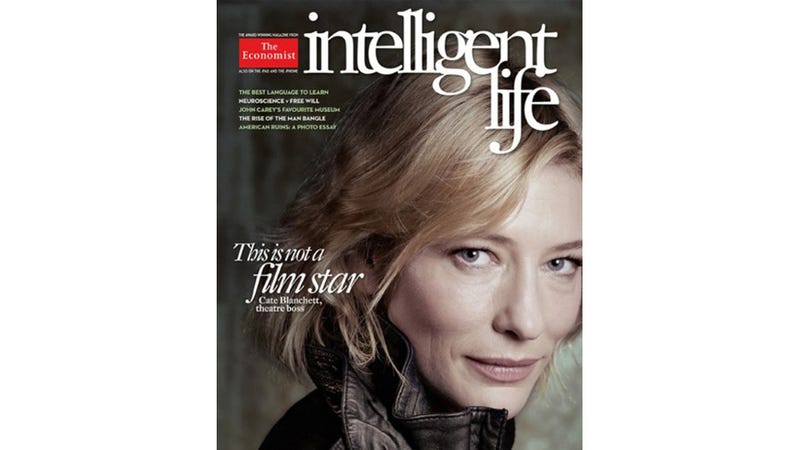 Intelligent Life is not a magazine about extraterrestrials but a publication from the brainy folks at The Economist. The current issue, for March/April 2012, features Oscar-winner Cate Blanchette on the cover, and the editor, Tim de Lisle, decided to leave her photograph unretouched. In his editor's letter, he explains:
When other magazines photograph actresses, they routinely end up running heavily Photoshopped images, with every last wrinkle expunged. Their skin is rendered so improbably smooth that, with the biggest stars, you wonder why the photographer didn't just do a shoot with their waxwork.

She looks like what she is… a woman of 42, spending her days in an office, her evenings on stage and the rest of her time looking after three young children.
And, of course, she happens to be stunningly beautiful. Putting a gorgeous woman on your cover isn't exactly a risk. Plus, this isn't a ladymag, where we've come to expect flawlessness. There's hard news here, which means readers can take the truth of a few wrinkles. But for some reason, if you are trying to shill your publication specifically to ladies, well, you know, we're too delicate to see pores! Bring on the airbrushing!
de Lisle is completely aware of the attention un-Photoshopped images generate, and he's both exploiting and questioning the situation:
We can't be too self-righteous about it, because, like anyone else who puts her on a cover, we are benefiting from her beauty and distinction. But the shot is at least trying to reflect real life. It's a curious sign of the times that this has become something to shout about.
Cate Blanchett: No Photoshop? No Problem-She Still Looks Amazing! [E!]
A Photoshop-free Cate Blanchett covers Intelligent Life [Telegraph]
Intelligent Life [Official Site]