This, ladies, is the just-announced Fujitsu Floral Kiss, a laptop for women. How do you know it's for women? It does all kinds of lady stuff. Like daily horoscopes. And scrapbooking software. (I'm surprised there's no recipe-sharing app, but perhaps that's coming with the first update?) Maybe if you're very good, you could ask your husband to buy you one for Christmas!
Ana Gasteyer Satirizes the Girl Boss in 'American Auto'
The press release copy just doesn't quit:
The top casing has been constructed with an elegant and refined gradation with gold trim, and it features a flip latch that can easily open the display — even by users with long fingernails. The power button is adorned with a pearl-like accent, and the power status LED and Caps Lock key are decorated with diamond-cut stone for a sophisticated look. An exquisite gold ring frames each key on the transparent keyboard, highlighting its elegant style. In addition, the outtake and intake vents all feature a floral motif design.
The number of words Fujitsu's press release devotes to the technical specifications of the laptop: 19.
G/O Media may get a commission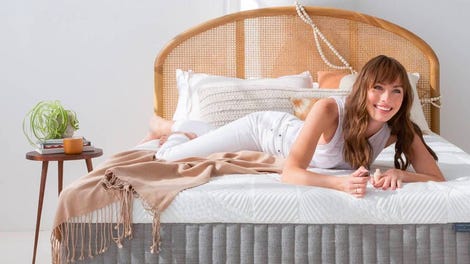 Sleep Sale
Sleep Sale - Brentwood Home
The number of words Fujitsu's press release devotes to just a few of the laptop's special lady touches, including its three available colors (Feminine Pink, Elegant White, and Luxury Brown), its "zirconia adornments" and convenient, lady-sized external mouse: 167
The number of words Fujitsu's press release devotes to the Floral Kiss's accessories collaboration with the Japanese brand Agete, which has resulted in Agete-branded carry cases in bronze pleather (which comes with a matching pouch which you could use for makeup!): 134
Women are not some special subclass of humanity with totally unique needs in laptop computers (and a bizarre and unshakable preference for the color pink). Laptops are unisex, and the talents of the vague "team of female engineers" who were tasked with designing this monstrosity would be put to better use improving the user experience of all Fujitsu's existing female customers. If it's really such a problem for your female users to open and shut your laptops without chipping their manicures, Fujitsu, maybe the latch needs a redesign? Building a special, pink laptop Just For Women! is insulting. And I'm betting nobody male or female wants to own a computer in "Luxury Brown."
Fujitsu Announces New "Floral Kiss" Brand of FMV Personal Computers for Women [Fujitsu]