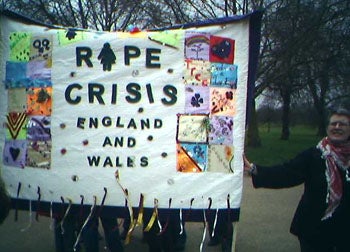 The British papers are abuzz this morning with a sickening story of sexual assault, alcohol and insensitivity. Helen, a 25-year-old beauty therapist in London, saw the £11,000 awarded to her in the aftermath of her rape by the Criminal Injuries Compensation Authority (CICA) reduced by 25% because she had been drinking the night of the attack, which occurred four years ago. According to the Telegraph, "The policy came about because of a clause in CICA guidelines that awards for all types of injury can be cut if alcohol consumption 'contributed to the circumstances that gave rise to the injury.'" When her payout was reduced, Helen received a letter from CICA that said, "The evidence we have is that your excessive consumption of alcohol was a contributing factor in the incident."
In response, Helen told the Telegraph, "It felt like I was being punished for having the audacity to step up and say: 'I don't think this should have happened to me'…Which 25 per cent did they think I was responsible for?" This initial turn of events is particularly upsetting because the UK has such an abysmal rape conviction rate in the first place. As we previously reported, fewer than 6% of rapes reported in England lead to convictions - and that's out of as few as 10% of rapes that are reported in the first place.
Though A CICA spokesperson's initial response to Helen's shock and disgust was "CICA makes decisions on conduct issues in good faith, based on the facts available to them in each individual case, and any applicants unhappy with the decision in their claim can ask for a review by a more senior member of staff," The Guardian reports, they've since gone back and apologized. And, according to the BBC, Helen, and the 14 other rape victims who were stiffed 25% because they had been drinking, will receive full compensation. It's a happy ending to a terrible, avoidable situation.
Rape Victims Awarded Less Compensation For Drinking Before Attack [Telegraph]
Rape Victims Told Alcohol Consumption May Cost Them Compensation [Guardian]
Rape Compensation Cut Overturned [BBC]
Earlier: The Rape Conviction Rate In Britain Is Pathetically Low