Ashley Madison is no stranger to sleaze ball ads and PR moves, but their latest one, while in the same vein, is quite the doozy. The online extramarital matchmaking service just unveiled a new billboard in Chicago starring a beaming Hillary Clinton photoshopped with the signature Ashley Madison finger to her lips. Adjacent is the caption "Harder Choices…Lead to Ashley Madison" because remember that one time when a potential presidential candidate was on tour promoting her book Hard Choices? HAR. FUCKING. HAR.
Just wow. Ashley Madison CEO Noel Biderman chatted with MailOnline about the ridiculous stunt, and of course he claims using Clinton's image serves a much higher purpose than a skeevy use of space. Via Daily Mail:
…Biderman…said Clinton was chosen for the billboard because 'this could be the first time a person sitting in the Oval Office has survived infidelity [from a partner's affair] and has an understanding of infidelity.'

Biderman said he wasn't sure if the billboard was 'satirical,' but said it was 'a play on words that allows people to interpret and discuss' infidelity.

If elected president of the United States, Clinton would have 'an opportunity to speak from a unique perspective' on unfaithfulness given her husband's affair with Monica Lewinsky, he said.
Because if Clinton decides to run and is elected president, she's reliving the glory days of her husband's presidency is definitely going to be at the top of her list. But don't worry gals. See, Biderman's on your side. He's working towards gender equality in infidelity and wants to help women help themselves. In a Skype interview with Fox 32 News in Chicago, Biderman stated:
"It's not an easy choice. People, women in particular, don't come to affairs lightly. They try and explore alternatives within their relationship. For many it's a last effort before separation…

Men have always had the playgrounds to pursue infidelity, strip clubs, massage parlors - that do more than massage - even escorts in Illinois and women haven't had those elements until the internet."
G/O Media may get a commission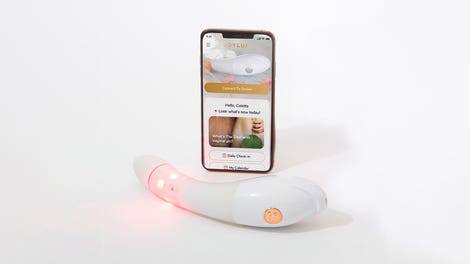 $50 Off
Joylux vFit Gold Device
Honestly, I do think there's a difference in societal views on extramarital affairs. But shitty Ashley Madison billboards are not going to address it, nor were they meant to. They're just going to keep evoking scoffs and general distates. (Also, side note, if the point is to attract women to infidelity, using a woman whose husband cheated on her makes no sense.) But hell, women may make 77 cents for every dollar men make, but so long as Ashley Madison can hookup the females as much as the males, I think we'll be a-okay. (<—Sarcasm)
Screenshot via My Fox Chicago.