Earlier this month the Contemporary Art Museum (CAM) in St. Louis debuted a solo exhibition by New York-based artist Kelley Walker. The exhibition, titled "Direct Drive," Walker's first solo in the United States, has drawn intense criticism as well protests over his depiction of both black women and history. Immediately after the exhibition opened, the St. Louis Post-Dispatch reported that critics called for the "racially charged [work] to be removed and for the museum's chief curator to step down."
The debate centers on two series featured in the exhibition, Black Star Press and schema; Aquafresh plus Crest with Whitening Expressions, both which date from the early 2000s and utilize appropriated photographs reprinted on canvas, covered with either toothpaste or chocolate. In Black Star Press, Walker appropriated iconic photographs from the 1963 civil rights movement, rotated the photographs each by 90 degrees, and covered them with melted dark and white chocolate. In schema Walker used enlarged covers of the now-defunct KING, a lad-mag-style publication geared towards black men, featuring photographs of musicians Trina and Kelis, among others. Those images have been smeared with pastel-hued toothpaste.
Walker told Alive Magazine that the works, particularly schema, are about the exploration of how language acts on an image. "With some works, when they first appear, they don't have language yet attached to them," Walker told the magazine. "And different ways kind of allow for language to be attached. It could be word of mouth. It could be in terms of community." That weak sentiment was reiterated by CAM curator and director, Jeffrey Uslip who pointed to the toothpaste as the whitening of the black body (duh) and the objectification of black women's bodies in the media (again, duh).
Walker's two series, as well as his explanation, typify a particular genre of contemporary art—heavy on appropriation and light on critical inquiry, its provocation feels like an empty gesture that signifies "edgy" more than actually engaging in substantive questions. It's a kind of performative political consciousness that's familiar enough: a white man asks questions about gender and race, as though nobody has ever attempted to post such difficult questions before; as if it never occurred to anyone to interrogate the media's treatment of black women's bodies. He, in turn, is congratulated for his daring, his unique ability to ask controversial questions.
G/O Media may get a commission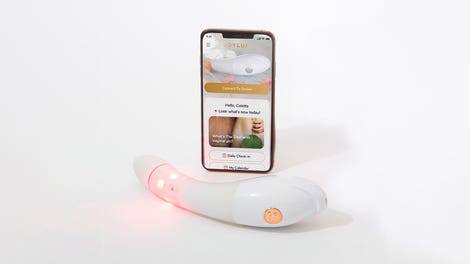 $50 Off
Joylux vFit Gold Device
There's a certain tendency among gallery-friendly artists to say something about "exploring language" or "exploring gesture" or "abstraction" or whatever that's been taken as an intellectual enough reason to appropriate images without much thought beyond the initial concept. Often lost in the conceptual application are the boundaries of race and gender, as well as ownership. The practice has a long and controversial history, both in art as well as literature, and the controversy over CAM's Walker exhibition spotlights that tension.
St. Louis-area artists argue that CAM's decision to exhibit the work is a blatant disregard for the violence and trauma suffered by the city's Black community, particularly since the shooting death of Michael Brown in the St. Louis suburb of Ferguson. Artist Damon Davis, who is leading the boycott against CAM's exhibition, pointed to that violent history, telling Hyperallergic that, given the context, the exhibition "is blatantly irresponsible and offensive."
Davis, who attended the talk, wrote earlier this week that Walker was resistant to answering questions about appropriating images of black bodies—particularly questions about black women, violence, audience, and context. Davis reports that Walker became increasingly hostile with the audience, many of whom were people of color, as they asked for something resembling a satisfactory answer about his work. "This adult man threw a tantrum because normal people who had lived through scenes like the ones he chose to use for 'aesthetics' were asking for some explanation," Davis wrote. He continued:
It is time for a new standard. People can no longer be allowed to exploit, demean, and disrespect a community and its history. Walker is the epitome of white male privilege, colonizing images of us that are either painful or sexual — both tantalizing to his audience — and then, when confronted, cowering and hiding behind artistic expression and his right as an artist to not be censored.
Following Walker's talk, three black staff members at CAM published a letter asking the museum to remove the four pieces from the Black Star Press and schema series. In the letter, they write that the works, "have inflicted blatant and expressed pain upon members of the St. Louis community." The staff members also call for a formal apology from Uslip and the museum, as well as Uslip's resignation.
In response to the controversy, Paula Cooper Gallery in New York, which represents Walker, issued a tepid defense of the work, disagreeing with the boycott, which they compare to censorship, and focus instead on the role of the artist. "The role of the artist, it has been said, is to ask questions, not answer them," the gallery notes, adding that "art is not one-dimensional." The statement continues:
Kelley Walker's art centers on the use and reuse of images that already circulate in our culture. In the St. Louis exhibition, which presents close to fifty works with imagery as varied as Volkswagen and Benetton ad campaigns, brick walls and sculptures inspired by the recycling logo, two bodies of works have generated concern within the community. They are based on appropriations and alterations of hip-hop magazine covers and documentary photographs from the 1963 civil rights protest in Birmingham. These not only consider our troubled history, but also reflect on the representation of the black body in contemporary culture, as well as open up onto larger issues of power, violence, consumption, and desire.
The statement notes that an essay on CAM's catalogue is written by New Yorker writer Hilton Als, who the gallery says addresses the issue of race in "Direct Drive." (Als's essay focuses more on the formal qualities of language rather than the issues raised by Davis and Walker's other critics. Als notes in his essay that he approached Black Star Press without awareness of the criticism that surrounds the series).
Strangely, the statement is rather elusive when it comes to addressing the issues posed by Davis. No one is questioning whether or not an artist has the authority to "ask questions." By now, that's a commonly accepted cultural role of the artist but, more broadly, what's missing from this statement is whether or not Walker is asking the interesting questions and whether or not the method of posing the question is entrenched in what Davis has called "colonization."
Earlier this week, Walker himself responded to the controversy, apologizing, in part, for his "failure to engage certain questions," during the question and answer session at CAM. Walker continued:

The KING magazine covers and Black Star Press works––two series among a broader body of work that deals with the circulation and recycling of images––are at the center of this controversy as they explore the politics of race. Although the works date from the early 2000s, they have been exhibited many times since then and I have also spoken about them in depth in prior artist talks and interviews, I should have been much clearer and more articulate about them. Given the painful recent history of the city, as well as the much longer history of violence and injustice directed at its African-American community, I should have been better prepared to address the subject matter.

I am a staunch advocate of social equality and civil rights in America. I am also an artist who seeks to create thoughtful, sometimes difficult dialogues about these issues. I have always hoped that these works, and the exhibition as a whole, would provide a forum for a conversation about the way American society gets represented in the media as images shift from context to context (newspapers, magazines, film, TV, etc.) and about how the representation of the body, particularly of the black body, is an exceedingly complex topic in American art and culture.
Walker's apology is familiar, a mea culpa followed by an articulation of the project, as though the problem was a simple misunderstanding. Yet there's something about the common language of "difficult dialogues," that feels very off here; that return to the artistic realm of ideas and objects rather than an engagement with the real physical bodies and the real violence rendered on them. It seems obvious that the representation of the black body is "an exceedingly complex topic," and has been for quite awhile.
Walker seems to ignore the very question that underpins his work, as well as CAM's decision to exhibit them at this particular moment in history: Is Walker the right person to create a "forum for conversation" about race and representation in St. Louis (or anywhere, really)? Judging by the works, it's hard to imagine that Walker has anything more interesting to say about representation, race, and gender that hasn't already been more thoughtfully and intellectually articulated.
As for CAM, they've decided that the best response is to "shield viewers" from the works in question. They will erect barrier walls and, according to the St. Louis Post-Dispatch, add "informational signs will also explain the objections to the work, so viewers can decide what they want to see." In a statement, CAM said:
CAM has a history of showing controversial artists; we have shown works that have challenged common sensibilities and presented work that has critiqued, in a difficult way, misogyny, patriarchy, homophobia and the military industrial complex, among other issues. Despite the debates and discomfort these exhibitions generated, we never removed them.