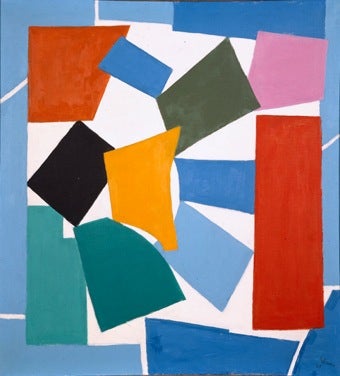 As soon as the list of art works requested for display in the White House was released, every political blogger suddenly turned into an art critic, and Watusi by Alma Thomas somehow made it to the center of the storm.
In early October, the Wall Street Journal published the list of 45 artworks destined for 1600 Pennsylvania Avenue. It included several bronze sculptures by Edgar Degas, eleven paints by American painter George Catlin, a piece by Louise Nevelson, a Rothko, and for the East Wing, Watusi (Hard Edge).
Naturally, political and art bloggers examined the entire list, searching for cues about the Obama's personal taste. Art News reports that there was a conscious effort to assemble a collection with "wall power" - art that packs a punch. As Robin Cembalest reports, there was also an emphasis on showing the best of American art:
"The overarching theme was trying to offer the president and Mrs. Obama the best of America," Smith told me in a telephone interview, describing the First Couple as "unbelievably curious and interested in a lot of types of art." It was a lengthy back and forth. Works by well-known artists on some early wish lists, including Edward Hopper, Charles Burchfield, Jackson Pollock, Franz Kline, Romare Bearden, Brice Marden, and Agnes Martin, fell by the wayside, either for conservation reasons, or because they were currently on view or promised for loan in the next four years. So did works on paper, photography, and video art.
The New Yorker deemed the entire collection "upper-middlebrow in an O.K. way." Obviously, Michelle Malkin had some much harsher words. She, along with several other bloggers, felt that the inclusion of Watusi was a telling example of Obama's general cluelessness. In a way, Alma Thomas, who spent most of her life teaching children and later became the first black artist to show at the Whitney Museum, seems a perfect artist for the First Family to support. However, the composition of Watusi is very, very similar to that of a late Matisse, which Thomas openly admits was the inspiration for her painting. Despite the fact that Thomas has clearly reworked and remade L'escargot in such a way that while it may resemble the original, it is a lot more than a mere copy, some still view Thomas as a thief and a fraud. Malkin ended her blog post on the whole matter with this charming comment: "I know, I know. Cries of "RAAAAACIST" in 3, 2, 1…" Others accused the Obamas of being too clueless to notice the influence, or "turning a blind eye because the artist was black."
Originally Watusi was supposedly going to hang in Michelle Obama's office, but sometime in late October, it was removed from the list. It's been confirmed that the painting was sent back, but Art News was unable to find out why. However, Cembalist does conclude that "the story behind this painting may also presage the cultural politics of the Obama administration." Considering the comments on Politco's post - which range from "Leave the painting - its emblematic of this phony, deceitful administration" to "The right wing hates this president so much they criticize some paintings? Really?" - this seems rather likely.
Critics Nix Obamas' Pix Mix [Art News]
White House Ditches Painting [Politico]