An Army general accused of sexual assault will plead guilt to lesser chargers.
Brig. Gen. Jeffrey A. Sinclair, 51 pleaded guilty to several charges earlier this month, including adultery, requesting "explicit photographs" from female Army officers, possessing pornography in a combat theater and more. According to The New York Times, he is expected to plead to guilty on Monday to charges of "disobeying a commander's order not to contact his mistress, using demeaning language to refer to female officers and using a curse word when confronted about that conduct, and misusing his government travel charge card."
According to The New York Times, the new deal involves the dismissal of other charges, including "accusations that he twice forced his longtime mistress into oral sex, threatened to kill her and her family, and performed consensual but 'open and notorious sexual acts' with her in a parked car in Germany and on a hotel balcony in Tucson."
Before the plea deal, General Sinclair could have faced the possibility of life in prison. While prosecutors are expected to argue for prison time, defense attorneys are citing similar cases where defendants received no jail time and paid a $5,000 fine.
Defense lawyers also say General Sinclair is willing to retire as a lieutenant colonel — two rungs below his current rank, and the last at which no illegal acts are alleged to have occurred — which would probably cost him more than $1 million in total retirement pay.
According to the Washington Post, defense attorney's have already reached an agreement with prosecutors.
Sinclair's sentence remains to be determined, although his attorneys said they had agreed to a side deal with the Army that would cap his punishment. They declined to disclose details Sunday, but his punishment is expected to be finalized in court this week.

Army officials declined to confirm the plea deal Sunday. Lt. Col. Robert Stelle, the lead prosecutor, did not respond to an e-mail. "Right now, the Army is allowing the outcome to be announced in the courtroom tomorrow," said Maj. Crystal Boring, an Army spokeswoman at Fort Bragg.
G/O Media may get a commission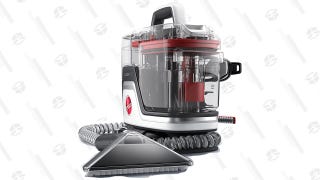 Save $10
Hoover CleanSlate Plus Carpet & Upholstery Cleaner
General Sinclair's attorney, Richard L. Scheff, said the will allow the general to move on with his life.
"The Army finally agreed to what were the essential terms for us, taking off the table all the charges that required General Sinclair to be a registered sex offender," he said.
General Sinclair served as deputy commander of the 82nd Airborne Division as well as of American forces in southern Afghanistan
Image via AP Images.