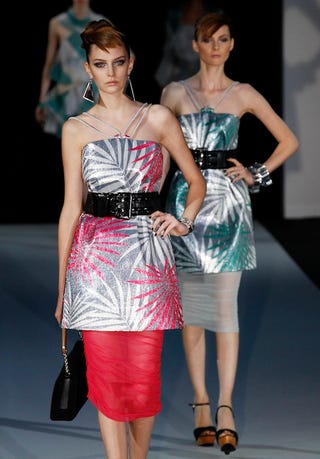 For Spring 2011, Armani was, he says, inspired by "the Tuareg peoples," who dwell in the central Sahara. While I'm totally unqualified to do so, I'm gonna go ahead and suggest that these clothes bear no resemblance to theirs.
Unless, that is, there are way more cocktail parties in the Central Sahara than I realized.



...and it's a lot cooler than we understood.



And look, no one's saying this isn't very nice, and somehow evocative of a sand dune, if you sort of close one eye.



"Sahara" just wouldn't have been our first guess is all.



(And by the way, this necklace is kind of macabre.)



One thing that's cool about Armani is that it could always kind of be 1991.



In fact, this facet of the collection is a bit more playful than usual.



It's always fun to see what takes he does on suiting: in this case, Sahara hip mom circa '68.